Aynsley England Bone China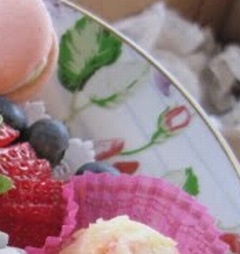 Aynsley England Bone China - a very fine firm with a rich pedigree, founded 1775 Staffordshire by Master Potter John Aynsley.
The miracle of Aynsley is that is you if you take a stroll through the decimated bone china making district of Stoke-on-Trent, Staffordshire, full of closed potteries, ruins and waste-ground, you will see, proud and loud, and still going strong, the logo of Aynsley, still in business (written as at Sept 2012).




My wife works for Avon Cosmetics and as a prize she won a lovely bone china bowl made by this firm. Never mind she knows nothing about fine bone china and mistook the brand for being the UK TV chef 'Aynsley' of the same name. She likes Aynsley Harriet, so I didn't want to disillusion her, so it's our little secret!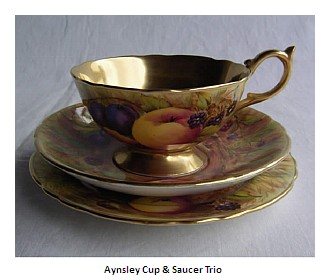 The company was started on a small scale as a hobby by potter John in 1775. Out of small acorns, oak trees grow, as they say.
It was when his grandson John Aynsley II took over that the company exploded to the pinnacle of fine bone china making.



Junior J. A. also became Lord Mayor of London in 1870. You always find there's a big character behind the success of a company that goes on to great things. In this case it was the grandson.
In 1861 a bone china factory was specially built.
Aynsley China is undoubtedly one of the best examples of antique bone china makers you will ever find.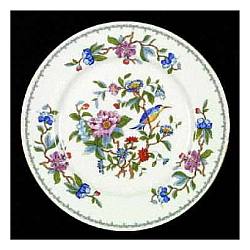 Aynsley's most famous patterns include Pembroke, Cottage Garden, Little Sweetheart, Wild Tudor and Orchard Gold. Rich people and royalty choose Aynsley bone china for their homes. These luminaries include Elizabeth 11 the current Queen of England, her son, The Prince of Wales. Queen Victoria was partial to a bit of Aynsley too.
Interestingly, there are connections between the Aynsley family and the makers Paragon China and Royal Albert .
======== PEMBROKE PATTERN ========

Founder John Aynsley's son formed Paragon China which enjoyed much success and Warrants of appointment from Her Majesty, The Queen (Mary) in the 1920's. Paragon was subsequently absorbed by Royal Albert, which, in turn was taken over by Royal Doulton.


return from Aynsley England Bone China to homepage or alternatively back to Antique Bone China