Ceramic Sculpture Finessing/Finishing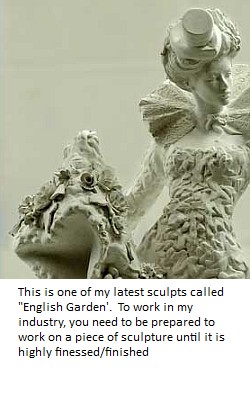 Ceramic Sculpture begins to take on an almost magical appeal when worked to a high finish.
People literally gasp when they see a a finished sculpt and can't believe the piece has been created from a lump of clay.
However .... the way I see it is completely different.
It is all about being prepared to not be in a rush for a result. To be determined not to be beaten.
What I am personally aiming for is is to get an almost photo realistic result when a photograph is taken of one of my finished sculptures.
What will happen on this page is that I will take you through some of the techniques you need in order to finish a clay sculpture to a high degree of finesse.
From my point of view, the whole thing about ceramic sculpture is more to do with hard work, solid techniques and dutiful application than any magical artistic creativity.
Art is often only partly to do with inspiration and more closely related to perspiration, hard work, toil and lots of it.
For me, that particular stumbling block is why many people cry off and say 'I have no artistic ability at all'.
What they actually lack is a propensity for very hard work and think if it doesn't trip off their fingers like Constable on a day out in the Lakes, then they are artistic failures. Constable put in years of dedicated practice before he could sketch like that.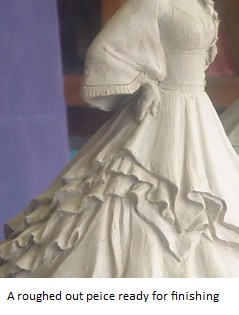 So, for the purposes of this page, let's presume you have followed the other tutorials on this site, or elsewhere, to produce a roughed out piece which has the right structure and composition. You are happy with it, you have worked hard on the face, or other important details.
You now need to give it very fine, smooth, perfect finish. Many people don't want to give their work this finish, they want to leave it in the rough state - particularly suitable if your piece is being cast in bronze. If that's you, you don't need this page.


Finishing & Smoothing for Ceramic Sculpture
Working for the famous name ceramic brands it is important to have an impeccable finish. My work has a hundred eagle eyes at the factory all looking for the slightest imperfection (now that's what you call motivation!).
When I do my bronze sculptures for the galleries I like to have a looser and more free interpretation for my ceramic sculptures.
I am often asked how I get such a smooth finish on my figures. Here's my secrets revealed. There are three stages to a perfect finish.
* 1. Sponging * 2. Brushing * 3. Finishing brushing
1. Sponging
Remove tool marks and unevenness with a sponge and a nice big bowl of warm water (the warm water is for your sake, not the piece). Wring out the sponge often to remove excess clay and squeeze out excess water well, otherwise you will over wet your work. Obviously, you can't do the small areas this way. Be careful not to remove any of your hard won detailing!
2. Brushing
Using the medium stiffness brush, carefully smooth the areas that your sponge couldn't reach. Again please do not touch the areas of detail. The areas of detail are smoothed and finished with the 'forged steel mixed use tool'.
3. Finishing Brushing
Using the large and small specialist finishing brushes, now go over the piece and remove all brush marks to a smooth glossy finish.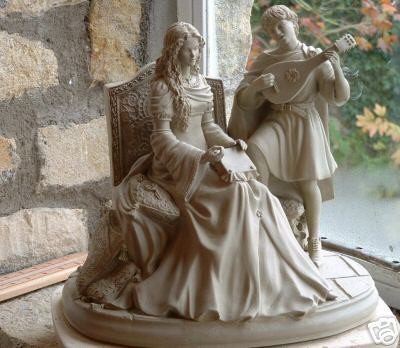 How do you do that detailing?
Sprigging or Sprig Moulding
The detail shown on the Celtic Tableau (see photo above) is done by a very traditional English method called 'sprig moulding'.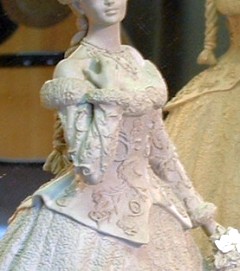 The figure on the right has sprig moulding on the sleeve and jacket and pressing on the skirt. Pressing is an easier technique than sprig moulding.
Sprigging is achieved by the following process:-
Separately, off the sculpt, on a flat surface, you sculpt a detail that you want to reproduce time and again.
When it is finished you pour over some plaster of paris in order to take a mould of the detail.
Once the plaster has dried out you can remove the original and now you have a press mould for your detail.
Press in new clay, then carefully remove your detail and apply to sculpt.
So really the finisahing of a production peice like the ones I make for a living is all about first getting to an acceptable rough composition, then smoothing with sponge and brush, and finally applying detail


Return from Ceramic Sculpture Finishing to the main
Clay Sculpting intro page.
Alternatively, go back to the Homepage.