China Replacements Website Review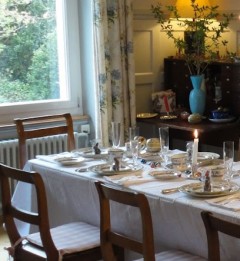 This page is my review of the 'best of the web' china replacements websites - which I have diligently written in the true spirit of me gladly doing all the hard work on your behalf.
A while ago, I met a couple living in Richmond, Surrey, England who ran a guest house I was staying in. Their names were Kate & Andy, and very nice they were too. Very house proud with beautiful taste.
It was like staying in a house featured in Homes & Gardens magazine.
Kate liked to have her guests eat off fine china, and her pattern of choice, which she had collected for years was 'Chinese Rose' by Spode.
Kate mentioned to me at breakfast that she had recently broken her large pitcher jug which she like to have on the breakfast table for milk.
She had been unable to find a replacement for love nor money.
"Ahh!", I said - "I am in the trade, maybe I can help!"
And so I did. I scoured all the china replacements sites I could find.


From my online experiences in trying to find a replacement Chinese Rose Spode pitcher for Kate and Andy, I wrote up this page and the eBay help page which you may have already come across on this site.


If not, and you want to find it, just use the search box located at the top right of every page and put in the words "ebay help".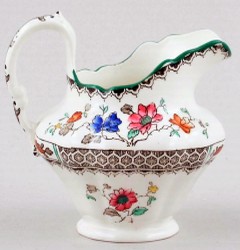 So this is a review of the best and worst of china replacement sites and some helpful tips along the way!
I have even had some website owners write in to contribute their own comments about my comments! As you will see.
During my china replacements research, I took on the role of Kate and Andy (the subjects of our china search replacement case study) and looked to see how far they would get in sourcing their Spode "Chinese Rose" pattern 5.5 inch large Jug if they were to Google and then look through the various china replacement specialist sites.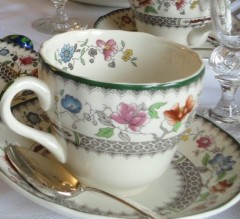 First I report on the U.K. sites and then, below, the U.S. sites.
It is important to note, the whole searching process took quite some time (well over an hour). Compare this with the time taken on an eBay search (if you know how to do it right).
BOTTOM LINE?
None of the china replacement sites had the Spode jug we were searching for in stock.


Ebay did have an active auction for the jug. As you can see from the above article, I am no particular fan of eBay, but it does often represent the best chance of finding a sought after object.
There are two section, the first is UK replacement sites and just below is the US replacement sites review.
U.K. CHINA REPLACEMENT SITES - REVIEW
http://chinasearch.co.uk/

Nice looking site. Works fast. No Spode "Chinese Rose" Jug in stock.

www.matchingchina.com (Scotland). This china replacements site seemed slow to load the homepage. Maybe there were temporary technical issues. Not a huge range in stock. No Spode "Chinese Rose" pattern in stock at the time.
http://www.premierereplacementchina.com UK site. A relatively small inventory, but very well organized site. Classic simple layout. No 'Chinese Rose' in stock when I checked. Patricia Maggs, owner and publisher of PremiereReplacementChina.com, has taken the time and trouble to upload her mission statement which is published on this additional replacement china page. Many thanks to Patricia. Other publishers take note!
http://www.chinamatchers.co.uk/. Only 3 items of "Chinese Rose" pattern showing in stock. Jug listed but out of stock. Nice looking site.
http://www.violetdesigns.co.uk/replacement_china.htm Showroom based design business in Midhurst, West Sussex, England with limited stocks of tableware. No Spode "Chinese Rose" pattern in stock.
U.S. CHINA REPLACEMENT SITES
http://www.replacements.com

I take my hat off to this site. Based in Greensboro, NC. The site is very fast with masses of stock. Virtually every brand and every pattern listed (over 300,000 patterns listed), even if not in stock. This site is undoubtedly the best resource online. A serious, long established business (compare and contrast with www.yourhometouch.com (listed below) it was founded by Bob Page in 1981 and now has 400,000 square feet of warehouse space. Unfortunately for Kate and Andy, still no "Chinese Rose" 5.5 inch jug in stock!

http://www.chinalane.com

With a showroom in Hanover, Maryland, this site has a reasonably large selection and works OK, if a bit primitive in layout. Only 3 items of Spode, "Chinese Rose" pattern in stock, none of them the Jug in question.

www.chinareplacements.com These people have nabbed the best domain name but, in my view have an extremely poor and antiquated site. No search facility that I could find. Apparently CHINA REPLACEMENTS has been in the dinnerware matching business since 1985 in St. Louis, Missouri. Presumably, their priority is off-line business. Could not locate any "Chinese Rose" pattern.
www.chinareplacements.net Not the same company as above similar named site. A company called Past & Present set up this site. Located in California's great Central Valley, in Visalia, this company was founded in 1981. The website looked pleasant enough, but the trouble for me was the lack of images. There were four different types of Chinese Rose pattern listed, but no images at all. I tried a few other patterns and none of them had images either. To have four different types of the same pattern listed and then no images to identify them, to me is the utmost in annoyance for a surfer for a china replacement service! My instinct was to click away and say "NEXT".
www.dinnerwarematchers.com Typical of the sites that don't make life easy for the visitor - I didn't see the "Chinese Rose" pattern listed. When I read the small print the list was only "popular" patterns. After hitting the search button I found some "Chinese Rose" but not the jug.
www.chinafinders.com - Genuine US on and offline business. Two locations off-line - one in St. Petersburg, FL and one in St. Louis, MO. Online presence is through an eBay shop, not a 'real' website. No Spode 'Chinese Rose' pattern in stock.
www.chinafinders.net Poor quality interface on the site. A 'made for advertising' look. Don't bother.
www.yourhometouch.com No substance to this site. No address or even country given. Must be either MFA (made for advertising) OR still under construction. Get this: This extremely POOR site was much higher in the Google rankings than excellent site Replacements.com. To be fair to Google the title "Replacements" does not give the spiders much of a clue (ie. leaves out the word "China". There again, "Yourhometouch" is no better. Sometimes, the workings of Mother Google is a mystery, but mostly she gets it right, if the webmaster has given her the right clues.




---

Summary of my china replacements websites research

So just to summarise, none of the main china replacements had the Chinese Rose Spode pitcher jug in stock at the time of the review. However, I did soon discover some were better than others.

Keep this page bookmarked and start your searching from here - it will save you time and effort.

I did find the jug eventually on eBay, but my first few searches on the eBay search engine categorically informed me there were none in stock.

I had to make a few adjustments to the search in order to find the jug on eBay for Kate & Andy - the story of which I tell on another page called 'eBay Help'.

---

Return from China Replacements Best of the Web Review to China Replacements Main Page OR Figurines Sculpture Homepage