Ebay Help
- A Real Life Case Study
Ebay help - Tame the beast! This page shows how to find your china and value it (even though eBay tells you it's not there).

I helped Kate & Andy, a very nice couple I met, who desperately wanted to find a Spode pitcher jug in the pattern "Chinese Rose".
They had looked online (including eBay), but found nothing, despite there being exactly the very thing they desired on a live eBay auction.
They felt they were quite experienced eBayers too!

Finding the Jug
I found their jug and thought there must be other people in the same situation, so on this page I explain how I did my searching.
If you are quite experienced on eBay already, and want to know what Kate & Andy didn't do right, then I'll just quickly summarise.
First it was to do with search terms, and being aware of the alternative search term list eBay post up (but it's lower down the page beneath the adverts) and many people miss it (and so miss the listing they wanted to find). EBay base their search results on their seller's title headers.
Sellers are notoriously cranky with their titles and often don't put in the most obvious search terms.

The other main thing is knowing how to use the eBay 'save a search function'. Many people use this function for their searches all the time, but others, like Kate and Andy were not familiar with it.
Kate & Andy's Spode Jug Search
The following is a real life china replacement scenario involving Kate and Andy who are very keen to find a Spode "Chinese Rose" Ironstone Jug (large water pitcher size).
This case study is very typical of ordinary people trying to find a china replacement and failing (when all the time their item is ready and waiting - just hidden from view). They just need to know how to get ebay help
They have a beautiful collection of Spode "Chinese Rose" pattern Ironstone tableware which they use for their small and friendly Hotel in Wimbledon, England.
Kate has (almost) everything
Kate has everything in the range apart from the large jug which she would use everyday for the guests' milk at breakfast. She has to use a plain white jug which rankles with her every morning.
She has tried the various china replacement websites and looked on eBay (or at least Andy has) with no joy. He needs ebay help.
So let's concentrate on eBay for a moment.
In order to track down their jug, Kate & Andy have to get over two difficult obstacles.
One is the the above mentioned crankiness of the eBay interface.
The second is the average eBay seller not knowing how to list his item correctly so as to be found by Kate and Andy (at this point in the tutorial Kate and Andy have to pause because they realize they are not yet registered with eBay, so they click here to register here first.
Next they have to click on this specially coded "replacement china" link which will open a new page in a new window, then return to these instructions.
IMPORTANT: The above CONVENIENT LINK just gets you instantly into the right eBay interface level for finding your item QUICKLY - Ignore the eBay search page results showing for now - you will input your own search term in a minute.
Remember, if you haven't joined eBay yet, pause this tutorial to join.
Now, on your browser, you should have two tabs or pages open which you need to be able to move between.
One is this page, with these instructions and the other is the eBay page which says "china replacement" in a search box.The next thing is to is replace the words 'china replacement' with the search term relating to your item.
THIS IS THE KEY - The search term you put in to this box will define whether or not you find your prized item. This is the key to this ebay help case study.

If you put in too many words you will have a zero result. If you put in too few you may have too many items to look through to find yours (needle in a haystack).
However, even if you think you have found just the right search term, your results still might show zero when your items are, in fact, there on eBay ready and waiting.
Andy put in a great search term which should have found the item first time. It was "pitcher jug Chinese rose". Sadly it netted zero results.. You can see how the ebay search help can sometimes be no ebay help at all:

Notice that Andy also very cleverly had identified that he should check the "include title and description" box and also had used the drop down box to identify the "Pottery, Porcelain & Glass" section (although be aware that some sellers list vintage china in 'Collectibles' or in the UK 'Collectables'). I always search 'All Categories', just in case.
Generally, Andy is doing the right things, but his searches are still not finding the jug in question (which I know to be there - hidden and waiting, calling to Kate and Andy, saying "Buy me, buy me").
So what next? How can Andy find Kate's china replacement and earn brownie points? He decided to add the word "SPODE" as well. The search read:-
"spode pitcher jug chinese rose".
Unfortunately, still nothing! Zero results shown. How could a search system be so bad as to not include an item which I happen to know was listed by the seller as:-
"SPODE COPELAND CREAM/MILK JUG CHINESE ROSE !!??"
The answer to that question is "Who knows?". Andy (and most people) would normally have given up at this point.
Then, at my prompting he put in the search term:-
"spode jug chinese rose"
and voila:-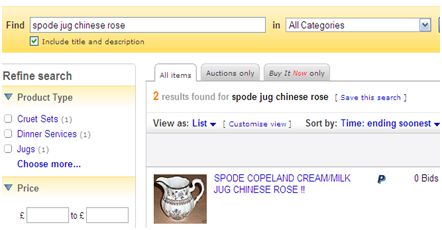 Andy found his item!!
(**FANFARE**)
To summarize - even people who normally know how to search for things online, and automatically try a variety of combinations may miss their item inadvertently with the 'clunky' eBay system.
Andy tried valiantly, but would normally have given up after the first few searches which netted zero results (but he continued due to my prompting) - eBay should have listed the jug against those search terms, but for some mysterious reason did not. No ebay help there then!
Another example of the poor performance of the eBay search system is when one of our visitors, Pam, was looking for a 3 tier cake stand. So she entered "colclough 3 tier cake stand" (she wasn't interested in a 2 tier stand).
Zero results.
I found her item by inputting the exact words
"colclough tier cake stand"
and doing a deep level search (i.e. checked the "Include title and description" box as well). In this instance, the seller had used the word "three" instead of "3" which made the item invisible to the buyer who puts the numeral "3" into their search term. Not a perfect system by any means!!
So remember, don't confuse the system with unnecessary words and don't use too few words (for instance, if you put just the word "Spode", there will be nearly 5000 results. "Spode dinnerware" only a mere 25 or so). It is a case using the right combination of words to find the seller's title and description. Often sellers do not understand the significance of their words - and some ebayers make a killing by bidding on stupidly listed items and re-selling immediately for more, just because they understand how to list properly.



What Andy didn't know
Now what Andy didn't know was that hidden way below the fold, underneath the long list of sponsored links was a clever eBay help search helper (why so hidden away, ebay?). Regular eBay users know this ebay help feature is there, but Andy did not.
It looked like this:
Now, if Andy had noticed this hidden aid earlier, it might have saved him a bit of time in his china replacement searching. However, most people would assume that if you put into the ebay help search the search-term:-
"spode pitcher jug chinese rose"
OR
"pitcher jug Chinese rose"
It would easily find a seller who in both his title and description stated the following clear and well written statement:-



"SPODE COPELAND CREAM/MILK JUG CHINESE ROSE !!"

Probably, in Andy and Kate's case, the optimum search would have been:
"spode chinese rose"
This three word term identifies all Spode dinnerware items with the "Chinese Rose" pattern and brings up a list which is not too long to look through (our item appears as number 18 on the list). Andy does not then confuse the quirky non ebay help system by referring to item specific descriptions like "pitcher" or "jug".
Each china replacement item search on eBay will be a little different, so adjust accordingly now you know the rules.

If YOUR results are still zero:-
IMPORTANT INFORMATION - MUST READ!
The Ebay 'Search Save' Function
Once you have adjusted your search to suit your item, its popularity and you have decided on the right search term (or terms) and the results are still zero, you can ask eBay to email you when matching items are available.
This is a really good feature and a great ebay help tip. Sooner or later, you are sure to find your item.
Look at this example for a Cauldon pattern which is the correct term but netting zero results (thanks again for the no ebay help!).

Just click the "save this search" button and ebay help will let you know whenever goods come online.

The 'Cauldon' example is possibly easier than the Spode as there is less Cauldon around. "Spode" is a particularly tricky example which need ebay help as it is a very popular maker with a big collection. However, Cauldon is often misspelled by sellers (eg. Cauldron, Couldon, Caulden etc) so you have to save the search term for each misspelling too!!
Don't miss your item for a bid
IMPORTANT FOOTNOTE! Please don't spoil all this clever ebay help searching by missing your item for a bid.
In other words, please decide your maximum bid and put that bid on the automatic bidding system. Auto ebay help will automatically outbid your rival by a small figure each time until your max is reached.
All you have to do is go to the "Your maximum bid: Place Bid" link underneath the starting price and then input the most you would be prepared to pay into the box shown below.
Ebay help will NOT immediately put that full amount into the auction, it will put only just enough in to beat your rival's last bid! All done automatically for you. Neat!

Here is the eBay search page link again - for those of you wanting to try this method to find their china replacement items:-click on this specially coded "replacement china" link which will open a new page in a new window
Here is the China Website Review click here

Return from China Replacement Real Ebay Help Life Case Study to China Replacement main page OR Figurines Sculpture Homepage