Italian Hand-done Clay Model of Lady in Porcelain Car (1947)
by lucie
(oshawa canada)
Italian Hand-done Clay Model of Lady in Porcelain Car (1947)
Italian Hand-done Clay Model of Lady in Porcelain Car (1947):- I got this item as a gift . it is a 1947 car with lady driving . great detail candles for headlights crank in front of hood cant make out signature says italy the sig is a s and last name starts with a m. everyone tells me it is made with a hard porcelain?

Lucie

======================================

Please contribute to this thread by writing in the comments section below – just scroll down...


HOW I MADE MONEY FROM BITS & BOBS OF OLD CHINA

.....more
The forum Help Elf says:-
I recently saw one of these weird looking models (a clown figure - not a a car) sell at auction for an extraordinary high 5 figure sum. I don't want to get your hopes up as this must have been a one off by a very famous artist for Lenci of Turin.
I don't know who did your one, or whether they are unheard of or highly collected.
It is the style which is similar - I have no words to describe this style - kind of hand made with blobs of clay. The Lenci one seems to be more slick in the finishing and design. If anyone knows the name of this style, please post below.
Personally, I can't see it, but the Lenci clown figure seemed to have at least 2 rival bidders as it went for way over estimate.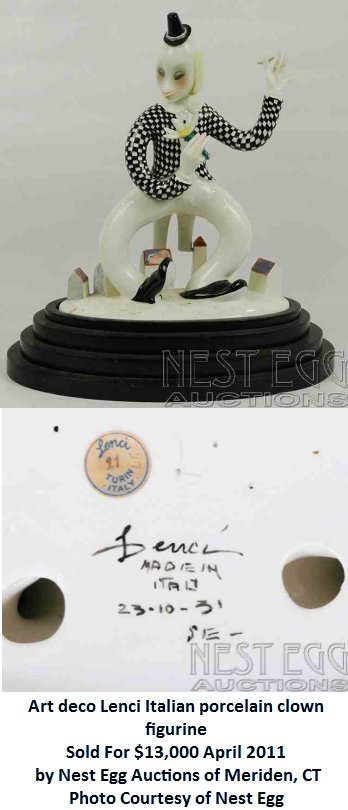 You really need to get your model checked out by a pro expert. Read this page first:
value of antiques
.
H.E.