My taunting jug!! - Marked GH&C or HG&C or HG&C backstamp in circle {Editor says try GH & Co}
by Paula
(Kent, England)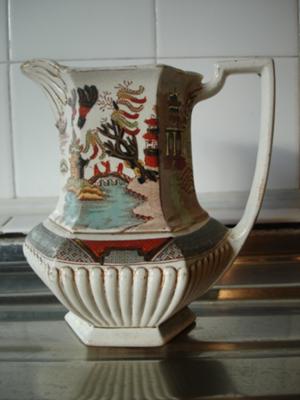 My taunting jug!! - Marked GH&C or HG&C or HG&C backstamp in circle {Editor says try GH & Co}
My taunting jug!! - Marked GH&C or HG&C or HG&C backstamp in circle {Editor says try GH & Co}:- Hi there, I have an interesting job sourcing objects to order for props for the film industry. I can be asked to find anything from PINK SHEEP to an original old hut/shed of particular size/stature. During my research I seach boxes of china/glass/pottery/treen/metal for unusual pieces then warehouse them into the categories/genre for the piece.

I happened upon this jug, which I love. I have had it for many years on my windowsill and fill it with flowers every week - have done since I found it.

It's time to find out where it belongs in my historical and present time boxes, so please, if anybody could let me know who made this, which country it comes from and especially the date and what it would have been originally used for I would love to know please. I intend to leave it on my windowsill, but can make a note of where it belongs in those boxes for future reference.

I believe it is the willow pattern, perhaps Imari style, other than that, it perplexes me and taunts me with it's stylised backstamp which seems too modern for a particularly old piece.

My jug teases me everyday, I search every now and then for the letters to find where it belongs but google gives me lots of other rather biological information about the letters, no matter which way I arrange them!

I am however SURE that I found it on your website once, but lost the link in a wipe of the computer. I have searched your site, which I use often and thank you kindly for the information you hold here, but to no avail I'm afraid, so have decided to bite the bullet and put the pictures up for all to see my jug in all it's mocking, smug beauty.

Please help me, I feel it may take over my life!! At least ten minutes a DAY is spent pondering this item, over years, filling it with flowers, too much time spent pondering upon such a splendid thing which beats me with it's true story.

My mind is muddled with my jug and would appreciate greatly a release of the hold it has on my thoughts.

Please help me.......

Kindest regards,

A rather perplexed Paula :-(

====================================

Reply by Peter (admin)

To: "My taunting jug!! - Marked GH&C or HG&C or HG&C backstamp in circle {Editor says try GH & Co}"

Hi Paula the Perplexed

May I very much unperplex you?

Ok, before I do that valiant deed, I want to make a couple of comments.

First, thanks for your kind comments about the website, I am glad it helps a professional like you with a very interesting job and you use it often. I volunteer to become the Bristol branch of your sourcing operation! ;-)

Second, your submission was close to perfection. If I had a 'Submission of the Month Award', I would give it to you because I love the human element and the story of you and your jug, LOL!
If only all submissions were so interesting. Nowadays, I just delete the monosyllabic ones which say "got a jug, give me the date, value and who made it". These ones no longer get published unless the mark is of utmost interest to all (sorry all you word-challenged folks) so other readers take note - THIS WEBSITE IS BOTH FOR FUN AND ALSO IS A FREE ONLINE DATABASE OF POTTERY MARKS FOR FINE CHINA. If it wasn't fun, why would I bother to do this for free when everyone else online wants a slice of your dollar? (as Deano said in another submission). The fact is, in order to get Google to index the page in their search results, pages now have to have a minimum number of words, which is why I ask for stories like Paula's. If we don't get found by Google, we can't share our pottery marks forum with everyone, so write your stories and follow Paula's example.
So, Paula, sorry about that little sidebar rant! Now I've got that off my chest, I can solve your mystery for you.
The submission you had previously found I presume was the one on the Heubach Brothers (GH - Gebruder Heubach), which said 'GH or HC or HG' However, this wouldn't have helped you had you found it again because although the initials of the name are similar, your mark is a different company.
The initials on your mark says "GH & Co" - which is an English company from Tunstall, Stoke-on-Trent, called Gater Hall & Co founded in 1899 and continuing until 1943, after which time the works was taken over by Barratts of Staffordshire Ltd.
Your mark was used from 1914. I am not sure how long this mark was used for, but this chinoiserie jug is very much the vogue of the late 19th and early 20th century. Chinoiserie was the fashion for European firms to replicate the patterns of the Orient. I am not sure whether your is Imari or Willow, or another style like Japanese Kutani (the orange colour suggests Kutani). You will have to ask an expert this one.
Hope all this helps
Peter (admin)
p.s. The following page is a 'must see' if you are researching fine china - for value and identification:-
Researching the identity and value of antique and vintage fine china
.