"Pottery Mark Query - British Kite Mark - R and IV with 5, 1, M, and 3
by Rick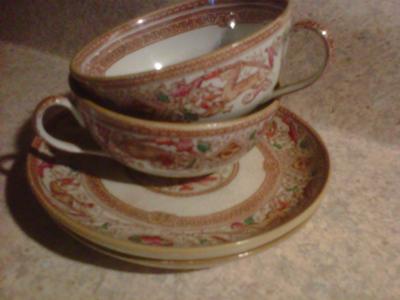 "Pottery Mark Query - British Kite Mark - R and IV with 5, 1, M, and 3
"Pottery Mark Query - British Kite Mark - R and IV with 5, 1, M, and 3:- Tea cup set, cups have Triangle mark with IV on top, 5 at 12:00 position, 1 at 3:00 position, M at 6:00 position, and 3 at 9:00 position.

I believe this is a transfer pattern with deer, wild boar, horn, and foliage.

Plates have the same kite mark, but also a crown above circle enclosed in wreath. The wording below the crown appears to be "Horgia" the first letter is hard to read. It couldd also be "Horcia". At the bottom of the circle the letters appear to be H&C

Could someone with knowledge of marks and patterns please let me know what year this could possibly be, and who the possible maker is?

Sorry, the pictures are a bit blurry as taken from my phone, but the mark is visible.

Thanks!

Rick

Please contribute to this thread by writing in the comments section below – just scroll down...


HOW I MADE MONEY FROM BITS & BOBS OF OLD CHINA

.....more
The forum Help Elf says:-
Anyone needing to decode their ceramic registration pottery marks can go to the
registration pottery mark decoding page of www.pm&m.com
(opens a new window).
For general free advice on how to research your collection, Peter wrote this page:
value of antiques
.
H.E.