Sculpting Tips For Success
The best sculpting tips should launch your success more quickly. So the first thing you should know about is your raw material - modeling clay. This important section will clarify all the questions you ever had about the different types of modeling clay. I share my professional experiences and sculpting tips fully and frankly.
My sculpt of this soldier shown below looks like it might be oil based plasteline clay, but in fact is water based modelling clay which can be fired if required, or, in my case, easy to cast for slip casting production with plaster of Paris blocks.
The blockers cut it up into casting segments, so it is essential not to have any internal armatures.
The clay, in its leather state is easily strong enough to support this guys raised arm which is holding a newspaper (the newspaper is supported by his leg, not his arm!). Many people are agast when I tell them this - one of the best of the secret sculpting tips!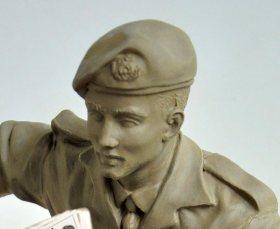 I have used most types of modeling clay, but have worked for long periods professionally with both plasteline and water based clay.
My preference used to be for plasteline, which never dries out, but since 1998 I have converted to a water-based modelling clay made by a UK company called Potclays.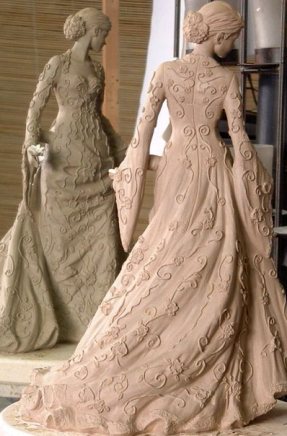 My clay is called '1150'. Now there's one of the best sculpting tips you will ever get. You need to ask for it by number.
The advantage is that it has several stages of softness which all complement the clay sculpting process.
When roughing out you need softness and pliability, so as to 'create' your piece from nothing.
Then you need the clay to toughen up off enough to support itself without armature - without getting too hard and brittle.
You need it to be able to smooth it too a very fine polished finish if necessary.
Look at the lady figurine on the right. This is Potclays 1150. It has been sculpted, smoothed and then a series of sprig moulds swirls have been applied to get the raised dress pattern details.
Water-based 1150 has all the characteristics of the various stages of softness to hardness - which is why I and many other professionals use it and I include it in my sculpting tips section.
Plasteline is never as pliable and is more expensive to buy. You can buy it hard soft or medium. The hard is like rock and has to be warmed. Even the soft is too hard and has to be warmed. But when on the piece remains too soft for practicality.
I have used Fimo and Sculpey for hobby work. I hear that Kato is the polymer clay choice of professionals, but I have never used it. More on this topic in the main report.
Neither have I used air-drying clays. However, we are lucky to have a guest expert on air-drying clays Sangeeta Shah who steps in to help.
Go to this section of you are interested in the possibilities of cold porcelain where Sangeeta will explain more.
I go into the various types of modelling clays in much more detail on this page DIfferent types of sculpting clay




Other Important Links
To get detailed information on exactly which ceramic modeling clay is best suited for sculpting, please go to my modeling clay page here.




I have also done a page which goes into more detail about water based clays. This page gives useful all round advice about working with pottery clay , especially if you plan to fire your work rather than make castings.

Understanding which modeling clays are out there and what your options are is extremely important, not just for the beginner, but also for the aspiring professional.
Do not fall into the trap of being stuck in your ways. This is possibly the most important of sculpting tips.
Early on I could only work in oil clays and wax. The the Staffordshire Potteries wanted some ceramic clay stuff from me and I was left wanting. I had to work hard to redress this one-sided skill set. As you can see, I got there in the end!
If in doubt as to what exactly a PDF file is, let me explain:-
A PDF file is a quick download file which all computers can understand.
In other words, whilst some files can only be read by PC's or alternatively by AppleMac's, PDF is a universal format that everyone's computer can read.
Foxit PDF reader is a small, light alternative to Adobe which opens PDF files in a flash and I find a better option.
Return from this Sculpting tips page back to the main How To Sculpt page or alternatively the Figurines-Sculpture homepage