The Staffordshire China Pot Bank
The traditional Staffordshire china pot bank is a sight for sore eyes. Rare and getting rarer by the day. When in Stoke-on-Trent, you often hear the old Staffordshire term "Pot Bank" used to describe a pottery factory. The old ones are characterised by their pear shaped chimneys. On this page, we explore this old English heritage.
These pages have been designed for those who appreciate the art, skill and finesse required to produce decorative sculpture in ceramics.
The skills do not end with the sculptor - they begin!
An English pot bank is quite unlike any other factory I have ever witnessed. They are special places.


Very nice to look at to our modern eye - quirky, old, full of nostalgia for times past and, more to the point, mausoleums for lost skills.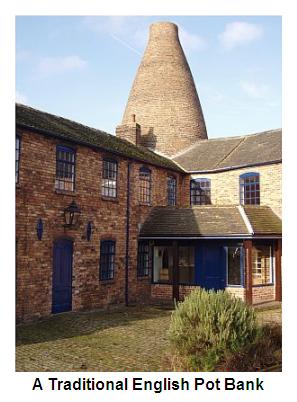 Apart from the fact, although we mourn the lost arts, they still survive in beautiful pockets.
That's how I am still able to make my figurines in the traditional English way.
I am forever in awe at the precision needed from my colleagues who take one of my master sculptures and begin the complicated process of making a beautiful glistening jewel of a high quality bone china product...... collectible figurines.
The blockers, the casers, the artful painters are all part of the story.




Let us all come together to thank the 'safe hands' and the tradition they represent and revel in our skillful culture and rich traditional crafts.

Here are the most collected and sought after figurine collections the world has ever seen.

The Great English Names:-
return from
The Staffordshire China Pot Bank
to
Figurines Sculpture homepage
or alternatively back to
Collectible Figurines