Finding Sculpture Supplies
On this page is a review of local sculpture supplies stores and outlets. You may actually need to go and fetch some of your materials and tools from your local supplier as the item may be too heavy to be sent in the post. Below on this page is included a brief outline of important suppliers and their particular specialty (they are all slightly different and have different niches).
Useful to know who does what, right?.

There is a review (see below) of who is specialist in what area.
But first a convenient search box just below the shop photo below which instantly gives you the latest updated contact details for each supplier, without having to leave this website.
So look at the sculpture supplies guide below, then come back to the search box here to contact the supplier.

OK, let's now look at supplier by country

Most visitors to these pages are from USA, UK or Canada, so let's deal with the suppliers and outlets local to each of those countries those first. Other countries scroll to the bottom of the page (Any local supplier or outlet can add their own listing for free).
Sculpture and Pottery Supplies for:
Click on your location U.S.A. CANADA or U.K.
Select the Supplier you want.
Copy and paste the name and location into the search box above.
---
USA
Review of Online Sculpture Suppliers
and Pottery Suppliers
American Art Clay Company (Indianapolis) 
AMACO sells modeling materials, sculpture supplies, air dry clays and ceramic clays, ceramic firing glazes, electric and gas kilns, Brent potter's wheels, and arts and crafts materials. Established 1919.
A.R.T. Studio Clay Company (Wisconsin) Mainly for potters, some ceramic modeling supplies.
Ball Consulting (Arizona) Mainly mold making and bronze casting.
Clay Planet (Santa Clara, CA) Mainly for potters - make own clays. Periodic Clay Sculpting Workshops.
The Compleat Sculptor (New York) For sculptors, prop makers, restorers, special effects, mold-Making etc.
Dick Blick (16 US stores) California, Connecticut, Georgia, Illinois, Indiana, Iowa, Massachusetts, Michigan, Minnesota, Missouri, Nebraska, Nevada, New York, Ohio, Pennsylvania, Philadelphia. General arts supplier including ceramics and sculpture (as separate departments). Although a general art materials store, I like the way they recognize ceramic sculpture as a separate department to pottery. Many useful items, could do with better and more organized tools for ceramic sculpture.
Laguna Clay (CA, OH, FL) Clay specialists Perfect Touch (Sugar Land TX) Specialists in micro wood tools that are an alternative to the dentist tools I mention in the clay sculpture tutorials 
Rochester Ceramics (NY) Mainly potters supplies. Primitive website. 
Sax Arts (New Berlin, WI) Art & craft materials & equipment for teachers 
Sculptor.org (New York) General sculpture resources and online directory.

 Sculpture Depot (Loveland, CO) Good all round supplier hosting periodic workshops with famous name clay sculptors.
Sculpture House (Skillman, NJ) A manufacturer rather than a retailer, but does sell direct from its own website. Somewhat of an institution in the US, founded in 1883 and owning it's own clay mines. Sculpture House caters for what it describes as the "five disciplines of sculpture" - clay modeling, stone carving, woodcarving, ceramics, mold making (casting). Also known for its tool manufacturing in Brooklyn, NY.
Smooth-On (Pennsylvania) Mainly casting and mold-making supplies. Western Sculpting Supply (Denver, CO) Mainly for casting and technical, but good for armatures and stands.
Western Sculpting Supply (Denver, CO) Mainly for casting and technical, but good for armatures and stands.
 ↑ return back up to the search box
Not yet found a U.S. location convenient enough for you?
For other locations in the USA, go to this sculpture supplies list which is by State (alphabetically) and then town.
www.magicyellow.com/category/sculpting/supplies/Cities.html
---
CANADA


Review of Online Sculpture Suppliers
and Pottery Suppliers
---
Sculpture Supply of Canada (Toronto, Canada)
This is the only major supplier that I could find covering Canada - they are experts in casting and technically oriented sculpture supplies.
For other local pottery/modelling/sculpture suppliers in Canada click the map and then zone into your region.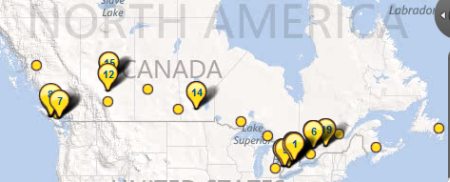 ↑ return back up to the search box
---
UK


Review of Online Sculpture Suppliers
and Pottery Suppliers

 ↑ return back up to the search box
---
The Sculpture Supplies Notes
Ceramic or clay sculptors need slightly different tools and equipment than other closely related occupations - like potters or stone carvers.
Save some Googling time! I have painstakingly coded and customized this sculpture supplies 'search box' page which is dedicated to finding supplies for those of us interested in clay sculpting / modeling and ceramic sculpture.
You can use the sculpture supplies 'search' in three ways.
Read the a reviews of the sculpture, pottery and clay suppliers ABOVE (currently covering the USA, Canada and the UK). Put the name of the company into the search box to access them online and see their details and competition. Put the item you want to get hold of into the search box. SIMPLE! The results will be pin-pointed only to your subject. If you know of a great supplier I have missed (either as a satisfied customer or as a supplier yourself) then talk to me on the form below.
return from Local Sculpture Supplies to Sculpting Supplies Main