2 LIONS WITH A OVAL IN THE CENTER WITH LETTERS (I THINK) V&B AND A CROWN ABOVE THE OVAL
by LINDA HENDRICKSON
(ALBEMARLE, NORTH CAROLINA)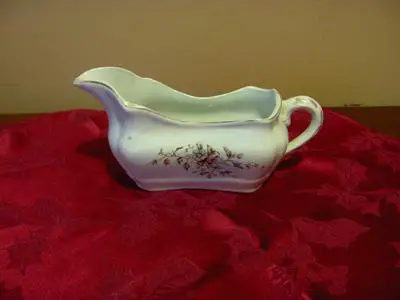 2 LIONS WITH A OVAL IN THE CENTER WITH LETTERS (I THINK) V&B AND A CROWN ABOVE THE OVAL
2 LIONS WITH A OVAL IN THE CENTER WITH LETTERS (I THINK) V&B AND A CROWN ABOVE THE OVAL:- I am fansinated with english china and pottery. I love to find unique pieces such as creamers and gravy boats and more I have started to learn and collect some of the pieces. My fathers parents were from england and came over to united states, my dad was born here in the states.


I started to collect pieces from england when i was living in australia. I would go to a antique dealer and help unload the truck of goods that came from england, was able to get great pieces and 1st choice before the pieces went out on the floor from furniture to pottery to china.
My life stlye has changed since then but i still have a few beautiful pieces , one being a large blue pitcher and bowl , a jug that is musical and some some sugar and creamers. Now that i go to auctions to buy and sell i have come across this gravy boat.
This piece i found here in north carolina at the bottom of a box at a auction. I have never seen that marking and i am curious to who made this piece and when was it made.
The piece has crazing all over it but no chips or cracks.
I hope you can help me adenify this piece .
Linda Hendrickson
===========================================