544 or 5LL marked on base of two handled ornate vase/urn with painted panel of angel on a swing on blue ground
by Julianna
(West Bloomfield, MI USA)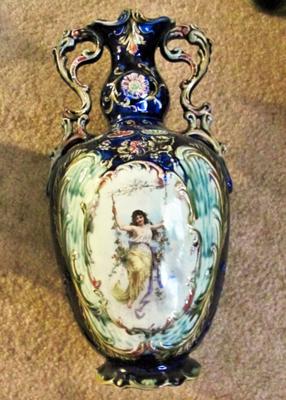 544 or 5LL marked on base of two handled ornate vase/urn with painted panel of angel on a swing on blue ground
544 or 5LL marked on base of two handled ornate vase/urn with painted panel of angel on a swing on blue ground:- Our mother passed away a couple of years ago and we have several (I mean SEVERAL!) pieces of her depression glass, cut glass, milk glass, Hummels, antique pitchers and bowls, etc. etc. She was thoughtful enough to put little slips of paper inside some of them indicating which child/grandchild should get that piece.


But there are many pieces that we're left wondering about. The Hummels are easy; they were our grandmother's. The cut glass is also easy. Our mom used to clean houses and one woman paid her in cut glass.
And the depression glass we know she collected herself. But this piece has been sitting in the living room for as long as we can remember (and I'm old myself!) but we never knew where it came from. My sisters and I just referred to it as "the ugly jar".
We're now trying to identify all her glassware. Many of them have marks that we have been able to look up through books and the internet, but this one has us stumped!
The bottom looks like a "544" or "5LL". It's about 12" tall. Dark blue with a painting of a woman on a swing on the front. We'd love to know something about the piece so maybe we can determine who it should go to, or if it has any value beyond sentimental.
Any help is greatly appreciated!
Julianna
========================================
Reply by Peter (admin)
To:- 544 or 5LL marked on base of two handled ornate vase/urn with painted panel of angel on a swing on blue ground
Hi Julianna
Nice story, thanks for telling it. I now have a nice clear picture of your the provenance of the 'ugly' vase and the background of your family and your mother's collecting life, so it makes it that much easier to help you and point you in the right direction.
These types of vases (what you refer to as 'ugly' vases) are known as 'Continental Sevres Style Garniture Urns and Vases'.
So the word you need to coin is 'Garniture' rather than ugly. Garniture just means fanciful and over decorated.
Typically they are two handled and very ornate - and they are made in homage to the madly overdone Rococo period of French king LOUIS XVI who believed (or at least his wife and courtiers believed) in his divine right to have sumptuous luxury arts and crafts made for his personal delight whilst the rest
of the population starved. Not too good a system if you want to keep your head on your shoulders (which he didn't).
Anyway, getting back to your vase, they are called 'Continental' because many hundreds of different makers all over continental Europe made these Sevres style pieces.
Louis and his forebears had pay-rolled the Royal Sevres porcelain plant for half a century. But real Sevres production is mostly in museums and important private collections, so it was left to the rest of the world to make the more affordable reproductions we see around today.
Some are marked clearly so you can see who made them, some, like yours are not. The numbers on your base are just production marks and not useful for identifying the maker.
The best quality Sevres style reproductions can sell for several thousand, the cheaper can be worth just $50 to $100 USD.
How to tell the difference?
Good reproductions will be fine porcelain and the painted panels will be done by hand by fine artists.
So look on your panel and check for signs of printing or painting. Printing will have a slight texture and at the edges there is a slight contour where the transfer ends and the ceramic begins. Your fingers will feel it better than your eye can see it.
You can see the actual brush marks with a hand painted item. But beware, some makers actually paint over certain parts of the transfer print to give the impression of real paintbrush marks!
Some makers, especially those less interested in artistic merit and more concerned with making 'products' used a porcelain substitute instead of the real thing.
For example, there was a big production plant in Carlsbad in Austria (after 1918 in Czechoslovakia), where they made exactly your style of Sevres vase for mass-production. It was called "Victoria" Carlsbad and they developed a clay slip called 'porelite'.
I don't know if your vase is one of the Carlsbad porelite production. It may well be. If so it would probably be made in the first part of the 20th century, and likely part of the production after 1920 within the new Czecho-slovak state.
So check the painting - is it hand painted or transfer printed (likely printed, judging by the signs of mass-production on the base, which is a bit messy). Is it real, fine beautiful translucent porcelain, or a less fine porcelain substitute?
Decide on these issues and you will get an idea of whether this Sevres style vase is just sentimental value or worth a few pennies.
Peter (admin)