Brisque figurines unknown impression marks numbers and a star and iron cross
by Sasha
(England)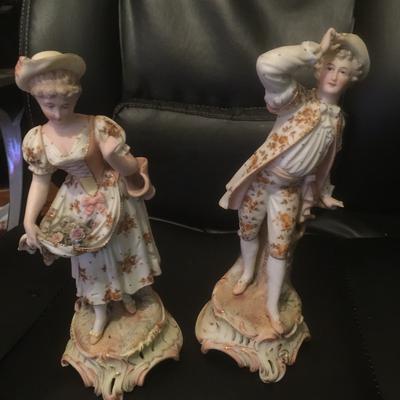 Brisque figurines unknown impression marks numbers and a star and iron cross
Hello Peter


I managed to find these bisque figurines a few weeks back. I have searched everywhere high and low and I cannot tell where these figurines originate from.
I have asked on other forums, asked people who know, still I have been unable to gain any information. I hope I can find out at least something about these pair. I have been told they are 19th century.
I will be looking to sell them, as that is what I do. This has been the most frustrating instance where I am really unable to find out more at this point. But I know I will get great info and help here on this site. Peter wrote a great write up to my last query , which helped a lot.
Great website!
Now the strange thing about these figurines is 1- the impressed markings. 2- Both figurines have a different impressed mark! Yet they are obviously a pair. One has a star impressed underneath. The other had a German iron cross as the impressed mark. I cannot find or match these impressions anywhere! I really appreciate any info. Thank you!
Sasha
----------------------
Reply by Peter (admin)
High Sasha
I am not sure why this pair has different markings, but the star mark on one of them sure looks like the mark of Schaefer (or Schäfer) and Vater of Rudolstadt, Germany.
See this thread:-
Schäfer & Vater 6 sided star mark
Best regards
Peter (admin)