"Pottery Mark Query - Crown above star"
by Margaret
(Maine)
"Pottery Mark Query - Crown above star":- This is a bisque nodder made in Germany. Impressed mark on nodder.


Any ideas?
Margaret
===============================================
I Have This Mark Too!
by Cynthia
(Maine USA)
Incised 3 Point Crown Above Sunburst on Lobster Trinket Box
I have a pottery lobster box that is 4 inches long and about 2 1/2 inches tall.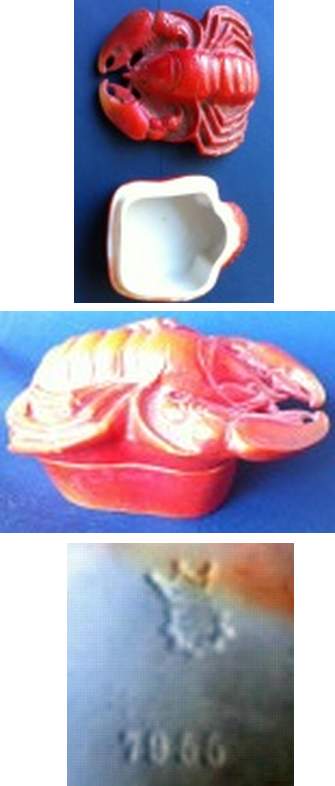 I would also like to know the origin but can not find a mark that resembles the one on the bottom.
The mark is a three point crown that appears to be attached to a sunburst. Inside the sunburst there are depressions but I can not make out any letters or symbols.
Also the number 7955 is stamped on the bottom of the box. The lobster is a deep orange with many details. I bought it many years ago and have recently become curious as to where it was made.
Cynthia
======================================
Same mark
by: Emily
I have the exact same mark on a 4 inch porcelain vase with a woman holding garland with a 4 number mark, I have searched a lot and this is the closest I got!! If anyone finds anything please post.
thanks so much!!
Emily
=============================================