Clay Sculpting Supplies
So you are researching clay sculpting supplies? Hopefully I can be of help. It is surprising how many bits and pieces of materials, tools and equipment you need to get your work to the next level. In this page I list exactly what you might need and there are links for you to compare prices. Remember that quite a few items are too heavy to buy online due the unrealistically high postage costs. I have a system for you to find your nearest stockist.
The stuff you need will vary slightly depending on the type of clay you choose to work in.
There are 3 basic types of clay.
There is water based modelling clay (I prefer this type of clay), as you don't need an internal armature support which can restrict your pose and design.


Next is polymer clay which is great for amateurs and professionals alike and it's how I started out on my career - you can bake this in the oven to harden it.
Finally there is oil based clays - plastiline, plasticine and wax.
I used this type of clay for my first professional sculpts before advancing onto water based modelling clay.
I was lucky in that the first few sculpts I ever did in the medium of plasteline were accepted by a company to produce into a range of merchandise.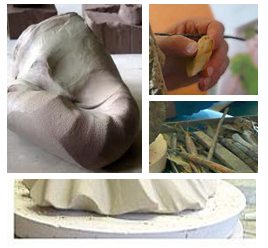 Here is a list of clay sculpting supplies
Let's begin by splitting clay supplies into two lists:-
1. Light enough to be sent through the post.
2. Too heavy to buy online
1. Sculpting Supplies - light enough for posting
Click on the links to get price online comparisons
(for fine detail)
(for water-based clays)
(for fine smoothing of water-based clay)
(for water based clays)
(for polymer clays)
2. Sculpting Supplies - too heavy to buy online
Click on the magnifying glass to go to the my 'search a local sculpture supplies store' page.
Water based clay
Turntable
Sculpting bench or table
Comfy chair with adjustable height
Plaster base or 'bat' (for water-based clays)



IMPORTANT NOTE:
In order to carry out your ideas in clay sculpture - you must first have the right collection of ceramic sculpting tools to hand. There is such a confusion of modelling tools online people sometimes confuse 'potters' tools from pottery supplies websites (and even stone carving rifflers) with clay artists tools. You could be forgiven for the confusion because on first appearances they may look similar. Normally, online and in shops they seldom help you with your choices, thus multiplying the mystery. Here, you get every help possible, so no mysteries and no confusion.
Go to my Essential Ceramic Sculpture Tools Guide for details which explain how to use clay tools for ceramic sculpture.
See also the page showing user testimonials about these tutorials.

Sculpting Tools
When first starting out you tend to buy lots of different sculpting and modeling tools. After experimenting with what the tools can be used for, you end up using only a few and discarding the rest.
So here you can speed up your learning curve.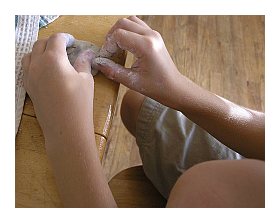 After 20 years as a professional modeler / sculptor for Royal Worcester, Royal Doulton and Wedgwood Coalport, I can share with you my knowledge of pottery supplies online.

Creating art is all about you feeling right - and getting the right help, at the right time. That time for you is now!




Putting the theory into practice
Next on this Clay Sculpting Supplies page let's talk about getting started. It's one thing having the equipment, it's quite another using it.
You will discover the different types of modeling clays available in the Sculpting Tips section and are two individual pages which you need to look at:-
A Review of Different Types of Ceramic Modeling Clay
Would a complete list of US, Canada and UK Sculpting Suppliers be useful to you?
If your answer is yes,
Continue on to
my US, Canada and UK sculpture supplies websites listing
return from
sculpting supplies
to
homepage