Antique Bone China A-Z Guide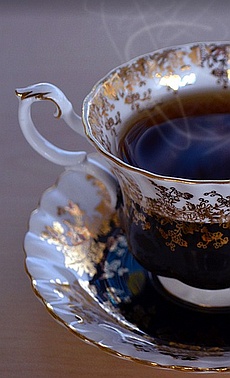 If you are at all interested in antique bone china you will need to keep this guide handy. It summarises the history of the leading firms.


This section is not a directory of pottery marks, but explains who founded the company, in what era, and what happened subsequently.

All this helps to get a handle on value.

The A - Z directory starts immediately below a short introduction.
First, a short introduction to bone china:-
Bone china is a type of porcelain with added animal bone. The firing temperature needs to be high and so is expensive to produce.

The first firm to develop a reliable recipe was Spode in 1799.

It is specifically an English development. Germany, France and the rest of Europe stuck to their older, more traditional Chinese porcelain recipes (no animal bone).
A quick sidebar . . .
Need to know value or identify something pronto?  Your head's coming off and you just need some help?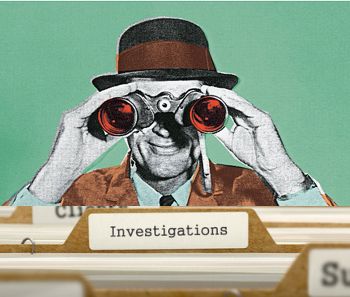 Are you suffering from GBO? (aka GoogleBurnOut!) Click this image, quick
Back to bone china . . .
Bone china is a very pure white (whiter than standard European porcelain) and can be cast so thin as to be translucent, yet is still surprisingly chip resistant compared with lesser crockery like ironstone and earthenware.

Antique bone china was always expensive and difficult to work with.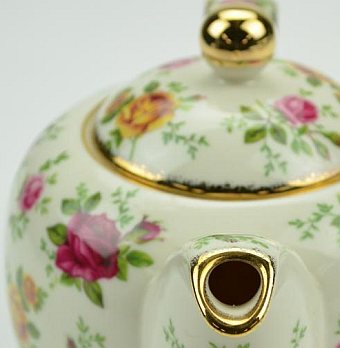 It wasn't until the latter part of the 1800's that the majority of the makers listed below learned how to use bone china for serious production.
Wedgwood, being very cautious about luxury porcelains, chose not to go into bone china at first.

They let firms like Spode and Rockingham do the pioneering work. Rockingham, sadly, didn't make it. Many of the old antique bone china making firms have not survived to the current day.

New makers with tighter marketing plans have taken their place over the last 60 years or so. They are dealt with in a separate listing here:- Modern bone china manufacturers.
THE A - Z OF ANTIQUE BONE CHINA MAKERS STARTS HERE.....
Adderley China
Founded in 1876 by William Alsager Adderley in Longton, Stoke-On-Trent, England. Also became known in the 1950's as 'Royal Adderley' under the 'Ridgway' backstamp (see listiings below).
Aynsley China

Aynsley is a leading company with a long history, so has it's own page.

Click here for the Aynsley page. (Goes to a separate page)
Beswick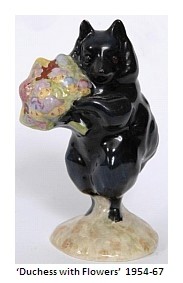 Founded 1894 Staffordshire, England by James W. Beswick.
Established initially in the 1890's as maker of tableware as well as ornaments, Beswick were also on the bandwagon of making Staffordshire cats and dogs, most of which were unmarked and hard to tell from other Staffordshire makers of the period.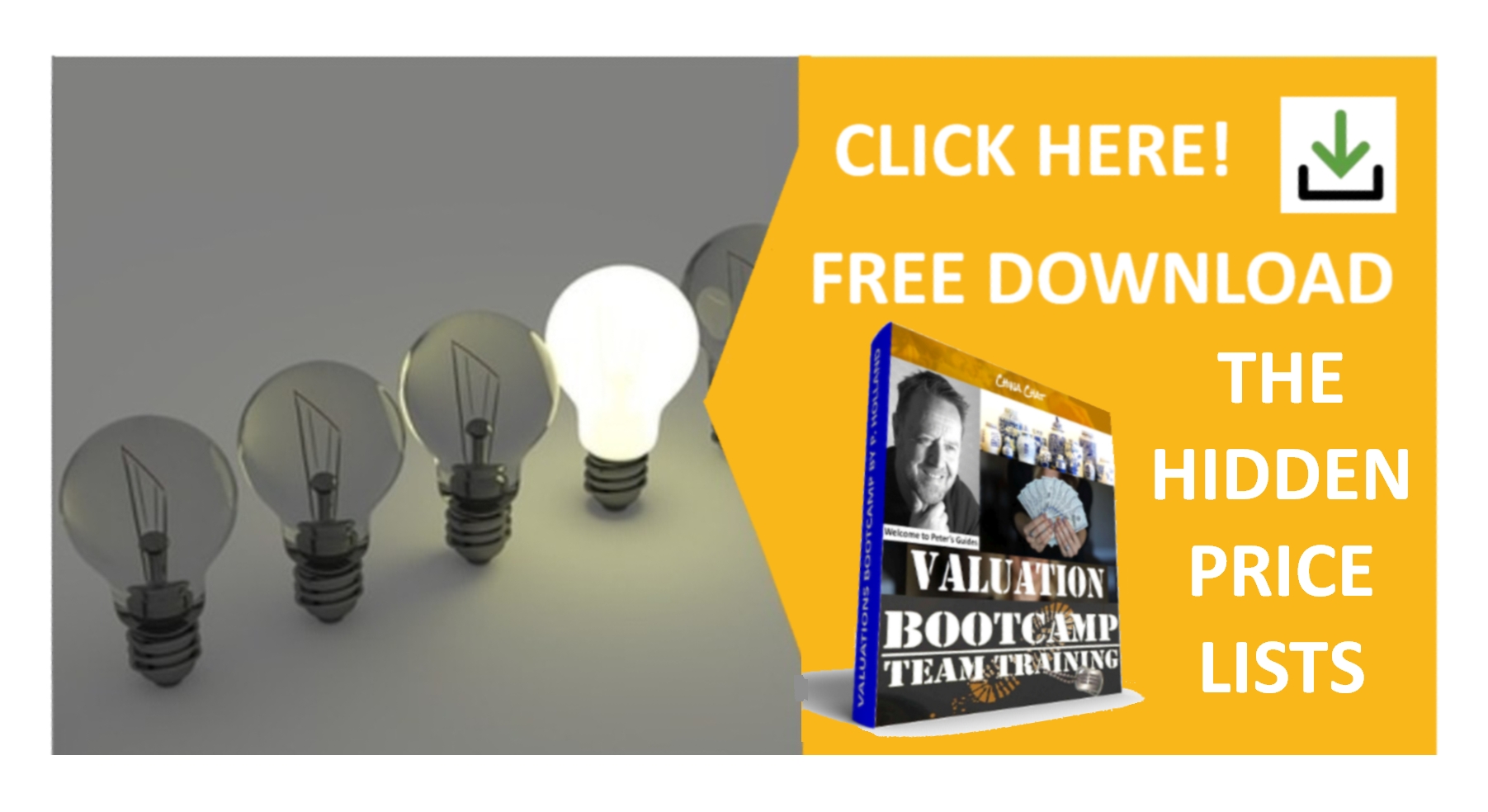 "Your guides are a blessing to us" Cindy Johnson
Not strictly speaking an antique bone china maker as they progressed to bone china only in the 1930's. Today's collectors are very much tuned into Gilbert Beswick who broke new ground in the 1930's with his high fired bone china figurines. His idea was to emulate the quality of Royal Doulton elegant antique bone china lady figures.
It was Lucy Beswick in 1947 who suggested using the illustrations of Beatrix Potter.
The family sold out to Royal Doulton in the 1960's. Look out for the figure 'Duchess with Flowers' produced 1954-67 - a classic failure at the time, therefore now rare and sought after; £2,000 plus ($4000 + USD) would be the current value, not a bad investment for 5 shillings (25 cents). These items are future antique bone china items - so watch out for them.
Coalport
Coalport is a top UK bone china maker and therefore has it's own page. click here for the Coalport page. (Goes to a separate page)
Colclough Bone China

Colclough has a long hisory. It needs a separate page. Click here for the Colclough page . Royal Stanley is a backstamp of Colclough and also has a page to itself - see Royal Stanley. Royal Vale is also a backstamp of H J Colclough China and also has a page all to itself - see Royal Vale
Copeland
For Copeland - see Spode (below)
Crown Staffordshire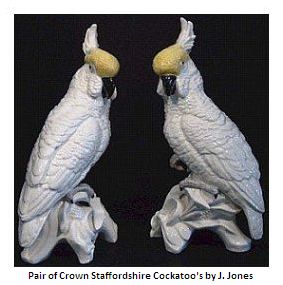 Founded c.1790 Staffordshire, England by Thomas Green.
Accounts vary as to the exact date Crown Staffs was properly established. Thomas Green (senior) was employed at one of the Burleigh pottery factories in 1790, but records show he officially founded his "Churchill Works" in the autumn of 1795.
The company who only later in their history started calling themselves 'Crown Staffordshire', began full scale production of quality wares at the famous Minerva Works in Fenton, Staffs (the site where Crown Staffordshire operated from until the 1950s) in the early 1800's. According to their own backstamps, and the Minerva factory entrance plaque, the establishment date was 1801.
However, trading under the name 'Green' in various guises, Crown Staffordshire was first used by the company in 1897. Unlike the well documented connections of Royal Crown Derby, I can't find any references to royal patronage that would authenticate the use of the 'Crown' trade name. If you have any information on this, please use the contact form.
Originally an earthenware manufacturer, the company produced bone china from 1933 onwards, at the specialist Minerva works in Fenton. So they are technically not antique bone china makers, but are important enough to be included here. In 1973 when the brand was bought out by the Wedgwood group, Greens were still based at the original Minerva works, employing over 200 decorators.
Wedgwood stopped using the Crown Staffordshire name in 1985, but still owns the brand. Jack Jones, sometimes described as one of the best ever designers of bone china table ware, worked for the company for 47 years. Today he is probably known best by collectors for the range of birds he sculpted - from large cockatoos to tiny wrens. In truth Jones added great value to the brand, giving them a higher status within the area of antique bone china collectibles. The fact that the brand is no longer manufactured, yet has a long history, adds value to the secondary market.
Davenport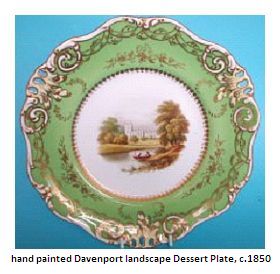 Founded 1793 Staffordshire, England by John Davenport.
John Davenport started his fine bone china production started around 1815, making him a key player in the area of antique bone china collectibles. Before that he produced pottery and tableware in earthenware from 1793.
The company stayed in the family for nearly 100 years before being taken over by Coalport in 1887. Davenport's most popular pattern number is "6" - the "Flying Bird" design - now very sought-after.
Delphine
Delphine is a backstamp of Hudson & Middleton (see listing below). It was the brand of the Middleton works. Delphine is also used by the Noritake company and also Royal Doulton have used the 'Delphine' name within their figurine collection.
Grafton, or Royal Grafton
Grafton, or Royal Grafton, is a pottery mark of antique bone china manufacturer, A.B. Jones & Sons Ltd see listed here:- Royal Grafton bone china page.
Grimwades
For Grimwades, see Royal Winton (famous for their 'Chintz' patterns) listed below under 'R'.
Hudson & Middleton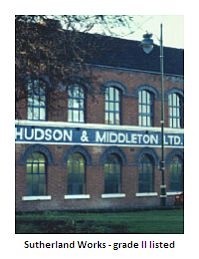 Founded 1870 Staffordshire, England by William Hudson & J. H. Middleton.
For 19 years from 1870 Messrs Hudson and Middleton worked together. The company then split into two and operated separately for 52 years – Middleton making Delphine ware and Hudson making Sutherland China.
Hudson's products were named after the Sutherland Works which today is a grade II listed building of historical importance to Longton in particular and Stoke-on-Trent in general.
Sometimes the 'Royal' tag is added to wares branded as 'Royal Sutherland' - not sure if they had a warrant or not.
'Delphine' is also used as a backstamp pattern mark by Noritake, so don't confuse the two. You might also see Royal Doulton Lady figurines branded as 'Delphine'. There is no connection. Hudson & Middleton are one of the few older established firms not to have been swallowed up by the Wedgwood/Doulton group.
The company we know today was formed by descendants of the founders in 1941. Recently breaking into the lucrative Japanese ceramics market, Hudson & Middleton are known for bone china mugs and tea ware. They have had to compete with the likes of 'new kids' Dunoon Bone China as well as the big household names in antique bone china.

There has now been added an article written by Helen Gregory (ne Chapman) who is a decedent of both the Hudsons and the Middletons. She expands on the information given here - a must for all collectors of Staffordshire china - Helen's Hudson & Middleton article.
Knowles Taylor Knowles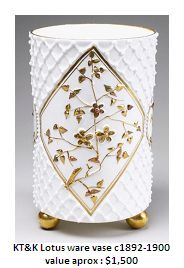 Knowles Taylor Knowles - Founded 1854 Ohio, USA by Isaac Knowles. Based in East Liverpool, Ohio, widely known as "Crockery City," (the Stoke-on-Trent of America), Knowles Taylor Knowles was said to be one of the first firms to use natural gas as a fuel for the kilns in the 1880's. In 1870 Isaac Knowles invented the "pull down" or "jigger" revolutionizing potting which until this time had been done entirely by hand.
His innovations didn't stop there – they were one of the first ever firms to employ their own design team and decorators.
In the 1880's they made a big decision to 'take on' the established English bone china firms. As a result, Knowles Taylor Knowles produced what was subsequently acclaimed to be the best antique bone china ever produced in America.
Their Lotus Ware, in particular, went on to become multi award-winning. A big 'look- at-us' statement Knowles Taylor Knowles were sticking the finger up to their disparaging Euro-rivals.
Perhaps they invented the concept of the 'lost leader' too because Lotus Ware lost them big money, but did the trick and, in the long run, made the name of Knowles Taylor Knowles.
Ironically, it was with the help of two defecting Europeans, H. Schmidt and J. Poole that Knowles Taylor Knowles managed this upwards swing in prestige. Sadly the great depression saw the end of the company and it closed in 1931.
Lenox Tableware
Lenox Tableware has its own page ....Click here
Minton Bone China
Minton Bone China history is written on a separate page. ....Click here.
Masons Ironstone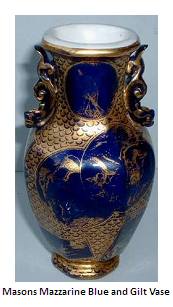 Founded 1796 Staffordshire, England by Miles Mason.
Now famous for his oriental designs in both Ironstone and antique bone china, Miles Mason took out a patent for his Ironstone china in 1813. Although now known for Ironstone which is a tough stoneware and not a porcelain (like bone-china is), he is also known for his antique bone china, which is why he is included in this section.
With his durable 'Ironstone', he saw the opportunity to develop a strong and decorative substitute for the fashionable and expensive large Chinese vases. Some of his vases were over 3 feet tall. They typically had lots of relief detail and were finished with 22 carat gold.
Mason seemed to be born lucky because as well as marrying an heiress, he had the talent to do great things with her money rather than fritter it away on excess – something that a lesser person might have done. First he was a successful importer of Chinese porcelain, then, when supply began to dry up he decided to make it for himself – very successfully.
This famous and auspicious antique bone china and Ironstone brand is now owned by the Wedgwood group. I entered the history of this company in my own small way when, in year 2000, I was commissioned by Wedgwood to sculpt a commemorative fine bone china oriental figurine decorated in the traditional mazzarine blue and gold. The privilege was mine.
Paragon china
Paragon china has its own page. ....Click here
Ridgway Pottery
The full listing for this important company can be found on my Ridgway Pottery page.
Rockingham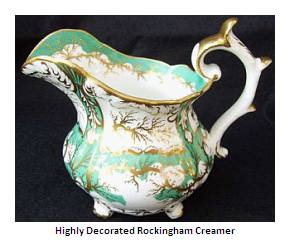 Rockingham were founded in Yorkshire, England by Joseph Flint in 1745.
Based in Swinton, South Yorkshire, England, Rockingham is a rare maker in this part of England. Sometimes a product can be too good. Such is the fate of Rockingham antique bone china.
It didn't survive. There were no hard headed dragons to pull the perfectionists away from the abyss of self indulgence – only the old gold of the 4th Earl Fitzwilliam to bankroll them. No expense was spared, no gorgeousness left un-encrusted.
Ceasing production in 1842, the rarity and quality of Rockingham ware makes it attractive to collectors. The only criticism levelled is the lack of imagination on the design of the antique bone china shapes. The antique bone china production began in around 1825. The clay body was of the best quality, very dense and creamy white in colour.
Highly decorated dessert services with still life subjects and landscapes became Rockingham specialties – all marked with the characteristic Griffin crest.
Today true Rockingham is rare and near impossible to find, for example, in an online auction. When I looked recently the price of just a creamer and sugar bowl with wear and tear was $110. Don't confuse true antique Rockingham with 'tribute' Rockingham patterns which other companies have brought out in the past - for example, Paragon have a famous pattern called 'Rockingham' as do Spode.
Rosenthal
See the Rosenthal dinnerware and other decorative items page.
Royal Adderley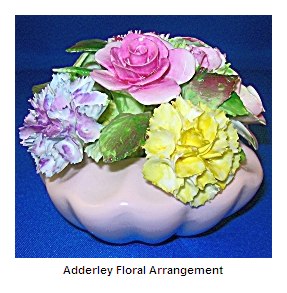 Founded in 1876 by William Alsager Adderley in Longton, Stoke-On-Trent, England. The original company was called 'William Alsager Adderley & Co' and the marks used at that time were either "W A A" or "W A A & Co". Also known later as Royal Adderley, presumably due to a royal license which I am still trying to trace (if you have any info please submit at the "comments and questions" at the bottom of the page.

Later, they became part of the company that owned the Lawleys retail chain which was bought out by the giant group of Pearsons, now famous for their publishing and media interests. The subsidiary, in the 1950's was known as Ridgway and Adderley as they were joined with the famous old china firm of Ridgway (see under 'R' above). Pearson sold off Ridgway & Adderley to the Wedgwood group in 1964 and from there both names gradually faded away. Later, Pearsons joined with Doulton, so Adderley, to my knowledge was never in the Doulton group.

Royal Adderley are often associated with the hand-made bone china flower displays, but, actually made a whole range of bone china items form tea sets to jugs etc etc.

Prior to the Ridgway era of the 1950's, he company was known as Adderley (floral). The tea sets, for example in the 1930's, would have been marked in brown ink as:

Adderley [lower case] [Then a crown logo] FLORAL [upper case] [Then a flower logo] Bone China Made in England

The 'Royal' would presumably have come with the 'Ridgway' association in the 1950's (Ridgway had several warrants and licenses bestowed - see under 'R' in the Ridgway listing).

I heard an anecdotal story when, in the late 50's someone wanted to replace a broken tea cup with the plain old 'Adderley' mark. When she bought the new replacement (identical) it had suddenly developed a 'Royal' connection on the back stamp!!

The flower arrangement dishes from the 1912 to 1926 years are likely to have the following backstamp marks:

Upside-down letter "V" over a crown.

Within the "V" is "Adderley"

and "England."

Then some red numbers.
Royal Albert
Royal Albert Bone China England has its own page. ....Click here
Royal Crown Derby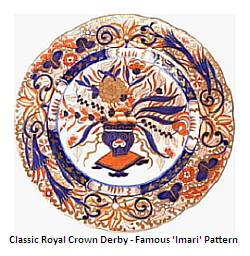 Founded c1745 Derby, England by Andrew Planche, William Duesbury and John Heath.
Planche was a refugee from Saxony (home of Meissen). In association with William Duesbury and John Heath he began the Derby tradition. Duesbury went on to become the driving force, working with top artists of the day and acquiring the famous factory at Chelsea in 1770.
In 1784 the London works was demolished and much of the workforce and equipment was relocated to Derby. 1773 saw recognition by King George who granted use of the royal crown on the wares. Queen Victoria appointed the royal warrant 'Porcelain Manufacturers to Her Majesty' in 1890 and successive monarchs have renewed the patronage.
This company were very early pioneers of china manufacture and began more than 50 years before the invention of bone china.
They did launch into the new material with gusto and their Imari pattern has achieved world status as one of the classics of antique bone china.
After much market consolidation in the 1960's, Royal Crown Derby joined the Royal Doulton company. However, in 2000 a group of people led by Hugh Gibson bought back the brand with a view to re-establishing Royal Crown Derby as a flourishing independent maker once more. Their order books are full. Long may they reign!
Royal Doulton
There are two sepatate pages for Royal Doulton

Royal Grafton
Royal Grafton Fine Bone China has its own page. ....Click here
Royal Stanley
Royal Stanley is a backstamp of Colclough. There is also a separate Royal Stanley page.
Royal Sutherland
The Royal Suthrland backstamp is part of Hudson & Middleton - see above listing.
Royal Vale
Part of the Colclough group - see the Royal Vale page.
Royal Winton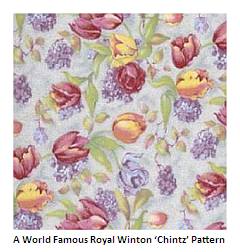 Founded 1885 Staffordshire, England by Leonard L. Grimwade.
Winton has always been synonymous with antique bone china of quality and design - and 'Chintz'. Leonard and his older brother Sidney (both potters) joined forces to form Grimwade Brothers. Leonard was the driving force behind many technical developments including Lithographic print transfers and the rotary kiln.
The new technology enabled them to develop their characteristic chintz patterns - classics of antique bone china (tightly packed floral designs - 'Marguerite' was the first Chintz in 1928). In 1913 George V visited the potteries and bought a Winton Tea set.
Grimwades changed their name Royal Winton in 1929. Production stopped in the 1960's making Winton very collectible. Under new ownership, the first new piece of Royal Winton Chintz for nearly forty years was introduced In March 1997 to great all round approval. The new owners also own 'Duchess' and 'Royal Creamware'.
Royal Worcester
Click here for the Royal Worcester page.
Spode (Copeland)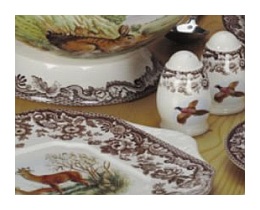 Founded 1761 in Staffordshire, England by Josiah Spode.
Watching his father buried in a paupers grave at the age of 6 must have had a lasting impression on the young J. Spode. Perhaps it was the driving force behind the formation of a company which not only survived but subsequently prospered to such an extent that his son Josiah Spode II was able to attain the crowning glory – the invention of fine bone china in c.1799. Antique bone china only ever dates to after this historic invention - ie you will find no antique bone china before that date. Actually, if you do find antique bone china before that date, keep hold of it because it will be very valuable indeed.
Spode's early pottery was called creamware - a delicate cream-colored earthenware, and not antique bone china at all. He then progressed to pearlware - a fine white-glazed earthenware often covered with a blue transfer print.
From the outset, Spode's work was was distinguished from other makers of the time in that it was regarded as flawless - porcelain that didn't craze, colors that didn't flake, and gilding that continued in its luster.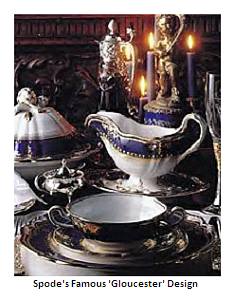 Spode was undoubtedly the ultimate 19th century porcelain factory in Stoke. In 1883 it became Copeland & Garrett.
The power behind the continued success of Spode was William Taylor Copeland (1797– 1868). He had succeeded his father (also William Copeland) as business partner to the Spode Pottery. A human dynamo of a man; entrepreneur, Member of Parliament, philanthropist and Lord Mayor of London, in 1866 he was appointed china manufacturer to the Prince of Wales, heir the the throne.
He managed to buy out the interests of the Spode family and became the whole owner of the name of Spode China. Today Spode own the equally famous Royal Worcester porcelain company and together they form a group which is one of the only UK rivals to the mighty Wedgwood group in terms of fine china production.
Here is a good page on Copeland marks . . . . more

Stanley Bone China
For more information on the 'Royal Stanley' backstamp, go to my page on Royal Stanley (Stanley is a backstamp of Colclough).
Sutherland or 'Royal Sutherland'
See Hudson & Middleton above.
Tuscan
For the Tuscan Tableware page, click here.
Vale Potteries
Vale Potteries, or 'Royal Vale', is a pottery mark of antique bone china manufacturer, H J Coloclough. Royal Vale has its own page here:- Royal Vale china. Colclough is here:- Colclough bone china
Villeroy & Boch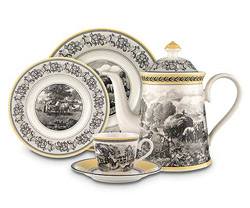 Founded 1748 Audun-le-Tiche, France by Francois Boche.
Being a very old established European maker, Villeroy & Boch do not have the long history of fine bone china making that the English companies do. The specialty on the European continent was of course hard paste porcelain. However, like Rosenthal bone china has become an important part of Villeroy & Boch's modern collections.
Like almost everything about this company their HQ is cool – being housed in a former Benedictine monastery (since 1809). A possible explanation of the 'coolness' is the fact that the 8th generation of the firm still run the business. You just have to look at the Audun Chasse range in the picture – it can be mixed and matched with any of the other Audun patterns.
If you think I'm trying to sell you something, I'm not. I have just admired from afar this company's ranges for many years. The marketing director of this company recently wrote an article on why the Wedgwood Group went into administration – it makes  interesting reading.
Wedgwood
Wedgwood has its own page here.
Antiques Bone China Chat
......Hey, Let's Talk!
Please try to add value to the site with your contribution. Read below to find out what is required...

These interactive spaces are all about chatting to others about ourselves and finding out where our interests and experiences meet.

Don't mistake this gathering of like minds as a free appraisal service - it ain't! Those kinds of posts get short shrift here, as really they are nothing but spam, just like the stuff that annoys everyone on Facebook & Twitter.

However, in the process of chatting, we sometimes can help each other identify markings and fascinating histories (but we stay away from values as that causes arguments). Instead, go here to the valuations service. Thanks.

CONTRIBUTIONS ARE SELECTED FOR QUALITY (both in photos and content) - SO MAKE SURE YOURS STANDS A GOOD CHANCE BY FOLLOWING THE RULES!! (see below)

NOTE:


IF YOU WANT TO GET YOUR QUERY PUBLISHED, PLEASE READ THESE SIMPLE RULES:-


You must have checked by using the in-house search engine (see top right of this page) that your query has not already been solved. Many have and people don't bother to do this.


You need to upload 4 photos (preferably 2 of the mark - one close, one of the whole of the base) and 2 of the item(s)


Write an article about who you are, your collecting interests and the story of how you got hold of the item(s) in question, where it fits into your life and interests. THIS MUST BE AT LEAST 600 words (sorry about that, but we needed to implement this policy in 2013 after Google changed its rules and banned our site from their listing because so many of our pages were under 500 words long. Ouch! That hurt!).


Above all, be a friendly and interesting contributor (not an anonymous individual who can't string two sentences together). What you write is up to you. If you don't have a story, and can't be bothered, go to a different site please.
Any submissions not following these simple instructions won't see the light of day on this site! We have more than enough short pages already.


What Other Visitors Have Contirbuted
Scroll up a bit to the online form to make your own contribution, or to ask a question .....

.... or Click below to see contributions from other visitors...
Return from antique bone china to homepage
Return from
antique bone china
to
homepage