Antique Bone China Query: Roslyn, Sutherland, Tuscan, Royal Albert, Colclough, Royal Wessex, Queen Ann, Delphine, Royal Doulton, Crown Lynn
by Donna Bird
(New Zealand)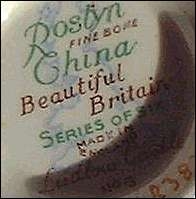 Antique Bone China Query: Roslyn, Sutherland, Tuscan, Royal Albert, Colclough, Royal Wessex, Queen Ann, Delphine, Royal Doulton, Crown Lynn. Image: Roslyn China - originally a pottery mark of Reid & Co
Antique Bone China Query: Roslyn, Sutherland, Tuscan, Royal Albert, Colclough, Royal Wessex, Queen Ann, Delphine, Royal Doulton, Crown Lynn companies:-


If you have some time I would like to know about some china things I have inherited: Some Royal Albert, Sutherland, Delphine, Tuscan, Colclough, Royal Doulton, Roslyn, Royal Wessex, Queen Ann, and Crown Lynn.
My Grandmother was Doris Bird and she was married to Harry Bird.
Anyway I think the pieces have a story some how as they came to New Zealand to work at Crown Lynn and she (Doris) was responsible for the application of gold at Crown Lynn.
I was wondering is there a connection with all these companies?
Cheers
Donna Bird
============================================
Reply from Peter (admin) below - just scroll down
HOW I MADE MONEY FROM BITS & BOBS OF OLD CHINA

.....more
Reply by Peter (admin)
To:- Antique Bone China Query: Roslyn, Sutherland, Tuscan, Royal Albert, Colclough, Royal Wessex, Queen Ann, Delphine, Royal Doulton, Crown Lynn companies
Hi Donna
Many thanks for your query. You are lucky to have inherited what reads like a Who's Who of china manufacturers. Your grandparents were 'in the business' and over the years obviously built up a beautiful collection of Staffordshire china wares.
You can read up on most of these makers in my A to Z China Manufacturers Guide on this site:
China Manufacturers A to Z
. The less notable will not have a section, but I will cover them here.
Some of the makers are related, others not. Sutherland and Delphine are pottery marks of Hudson & Middleton (one of the few makers to survive intact without being taken over by one of the giant concerns like Wedgwood or Royal Doulton).
Royal Albert is one of the most prestigious and collectible of the bone china manufacturers and fetch high prices. They are now owned by The Wedgwood Group.
Tuscan was similarly taken over, but their claim to fame is their links with multi-award winning designer Susie Cooper.
Colclough was the maker who made bone china accessible to ordinary folk. My parents' collection of the Colclough's 'Amoretta' pattern was my
first introduction to fine bone china (and their pride and joy).
Roslyn, Royal Wessex, Queen Ann, and Crown Lynn are the lesser known bone china manufacturers.
Roslyn China of Park Place Works, Longton, were originally a trade mark of Reid & Co who were founded in 1913. They changed their name to Roslyn China in 1946 and ceased trading in 1963. Their specialty was bone china.
Royal Wessex is a pottery mark I am not familiar with, so any information you have or photographs would be gratefully received.
***UPDATE***
I have now received more info on who made Royal Wessex. see:-
Royal Wessex Swinnertons
***END UPDATE***
Queen Anne is a pottery mark of a Staffordshire pottery called Shore & Coggins of Longton. They traded from 1911 to 1966. There other pottery marks included Bell China and Princess Anne China.
Crown Lynn is not mentioned in any of my books, but I understand from you that they were a New Zealand maker. Any further information from you would be great (where, when, who, what, etc), so feel free to leave an update in the comments section.
For further help with identification and valuation, you might want to take a look at the following page:
www.figurines-sculpture.com/antique-china-values.html
This is a unique identification & valuation service I've created which puts you in touch with a professional appraiser (personally checked out by me) who can tell you if your pottery mark is identifiable by experts without you having to pay any money upfront. My service is unique online and is designed to protect my site visitors from wasting their time and money online.
It's an invaluable resource tool if you're really getting into researching your wares.
Hope this information helps point you in the right direction. Don't forget to send me that Crown Lynn info!
***Editor's note: for more on Donna's fascinating story, see

Crown Lynn ware from New Zealand

and

Swinnertons Royal Wessex china ware
Best regards,
Peter (admin)
p.s. The following page is a 'must see' if you are researching fine china - for value and identification:-
Researching the identity and value of antique and vintage fine china
.