Minton Bone China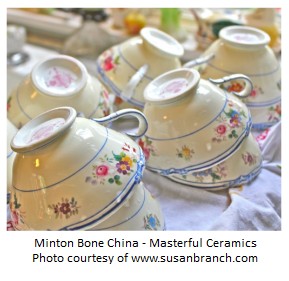 Minton Bone China - Founded 1793 Stafforshire, England by Thomas Minton. This company became one of the most prestigious names in bone china history. Why?
Thomas Minton was a Caughley (see Coalport) engraver attributed with the creation of the Broseley Blue Dragon and Willow patterns for Josiah Spode that are still in use today.
A talented and visionary individual, his company became so successful it went on to become Spode's nearest rival. Minton bone china is an essential part if any antique china collection. For me, Minton is a product of a perfectionist mind-set.
The Desire For Perfection

Part of this desire for perfection was to make such quality Minton bone china more affordable for ordinary people, and in this Thomas Minton suceeded.

Minton set about popularizing his own famous 'Willow pattern' engravings and then went on to successfully manufacture majolica, parian, earthenware and as early as 1820, fine Minton bone china.
Early Minton is regarded as comparable to French Sèvres, by which it was greatly influenced.
Haddon Hall Pattern - A 20th Century Triumph

The best known Minton bone china pattern is Haddon Hall. Designed by John Wadsworth, this pattern is particularly favoured by the Japanese market.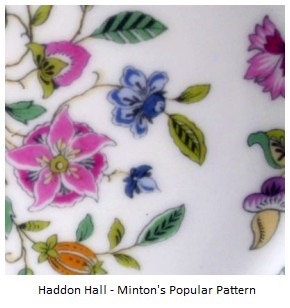 Haddon Hall was designed in 1949, but was but the latest in a long line of triumphant product developments driven first by Thomas and then by his son Herbert Minton who took over the running in 1836.

This early determination to portray great design in their products from Minton bone china onwards, seemed to groove the company into an endless culture of excellence - nothing less was fit for Mintons.
Colin Minton (Campbell) was the nephew who carried on the tradition and it was he who commissioned the likes of Christopher Dresser to make Minton's mark in that era. I have seen a Minton pseudo-cloisonne urn by Dresser sell for $8,500USD (2006 in Columbia, SC). The estimate was $3000 - $5000.
Acid-Etched Gilding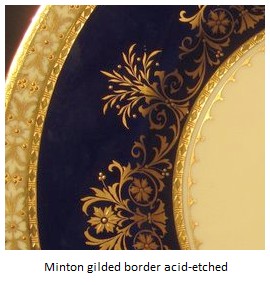 Renowned also for its intricate gold patterns, where one plate can cost up to $10,000, Minton items can be regarded as unique works of art, many of which are purchased as heirlooms.
In 1863 Mintons patented an acid etching technique where the outer glaze was scored so as to absorb the gilded detailing.
This was another innovation of the Campbell era. Just think about what it takes for a dynasty like Mintons to be created and sustained.
First it takes the founder - a world remowned artisan and the originator of the Willow pattern. It then takes an equally gifted son to take over the reigns.
The a third person, the nephew, Colin, must possess untold entreprenuerial and artistic skills.
Pâte-Sur-Pâte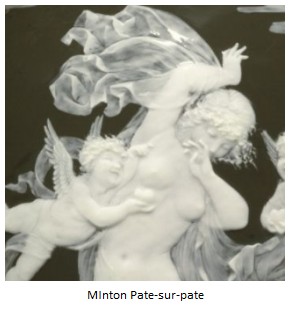 So a family business must be run if it is to create the legacy of Minton. Without these visionary skills, it seems a business, no matter how noble in intent, in the harsh world of commerce, must perish.
And many did, and will.
Minton also pioneered the English application of the French skill of pâte-sur-pâte where paste or slip (liquid clay) is painstakingly layered to gradually build stunning artwork.
Minton were pioneers.
That must always be remembered when you see their pretty bone china tea cups, sitting daintily on the drainer.
Majolica - A Minton Idea Based On Italian Pottery

'Majolica' is yet another pioneering development of Minton's astonishingly creative and technically gifted product development of the 19th century, after Minton bone china, cloisonné, pâte-sur-pâte and acid-etched gilding.

Majolica is a type of ware developed in the UK by the Minton factory around 1850 in imitation of Renaissance ceramics from France and Italy (Majolica being an Anglicised version of the Italian word Maiolica coined by Minton to describe these early pieces).
It was produced by a very specific process – of using coloured glazes to accentuate heavily moulded pieces. It was very soon copied by many manufacturers in England, Europe and North America.
I noticed with a sharp intake of breath that a rare Minton majolica sconce (see photo) was sold in 2008 by Sothebies New York for over $20,000 USD. The estimate was in the region of $10000 - $15000.
So, bearing in mind all my above proclamations of the near deity that is Mintons - trail blazer of much that is great in the world of high class decorative ceramics - from Minton bone china to majolica - it's no surprise that it keeps its value today, even in a lesser market for fine china.

As I already said, top end Minton, for example Christopher Dresser designs and rare majolica sells for 4 and 5-figure sums.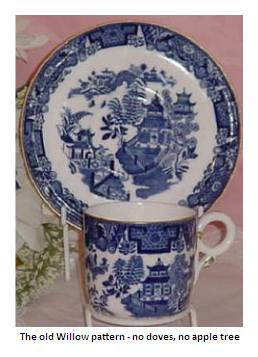 I saw on his blog that Eric Knowles, famous expert on the UK version of the BBC's Antiques Roadshow, is tipping the collection of Jean Muir's Minton bone china trinket boxes designed in the 1980's as one to collect for the future.
In my view, the Minton name for its antique and vintage china is very much holding its own. If you can get a bargains on some Minton, I would grab it as an investment.
You couldn't get a better example of the very best of the glory days of fine china making - before its sad demise in the 21st Century.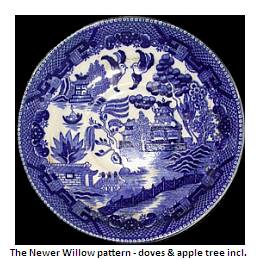 Have a look over it (scroll your mouse over and the picture will expand and the current bid for that item will show up). Click on any item to follow the individual auction.
Just on a salutary note, don't confuse the seller's buy-it-now price (BIN) with the final winning bid. Sellers can be a trifle optimistic at times and many lots remain unsold when the BIN price is 'trying it on' too much.
Just on a note of detail, see the Willow pattern photos and look to see how the old Thomas Minton pattern differs from the newer design.
The newer willow pattern includes doves and an apple tree. The older pattern is without these two details.
Apparently, the story goes that the original Chinese pattern Minton copied had no bridge. SOme argue that Minton was interpreting an old English story, not the supposed Chinese legend of the eloping lovers.

Where are Mintons Now?
Minton merged with Royal Doulton in 1968 and effectively became part of the Wedgwood Group when Doulton was taken into the Wedgwood Group in the 2000's. I am sure they are thriving under that genius management. Just like the old days with Thomas, Herbert and Colin, I bet!

I jest, of course (that English sense of humour coming out again). Since then, the Wedgwood Waterford Group, of course, went into administration, wrote off a lot of bad-debts and reformed again (as I understand it and will stand corrected if this is wrong) under the management of some of the same key personnel, within a new company called WWRD Holdings Ltd. The financial input came from by KPS Capital, an American investment company.
Meantime, around 2000 English workers were told they were surplus to requirement and to get on their bikes and look for new work, whilst an array of fine English china products were outsourced to the Far East.
There is a much smaller body of English skilled workers kept on to make the top end products and have something to front up when the coach tours visit.

Warning: these foreign products may or may not show a country of origin label. Only if an item says the specific words "made in England", trust it to actually be made in England

I wish I could go into admnistration, write off my mortgage and reform as PJH Holdings - then carry on as if nothing happened and have my mortgage providers just suck it up. It's a good trick if you can do it.
I may also try making my stuff abroad and pretend I made it here. I wouldn't actually do that, it would be disreputable, wouldn't it?
If I sound like a campaigner for the country of origin act to make a come back - I am!
So what are WWRD Holdings Ltd doing with the Minton name? I would be interested to find out product development plans, and when I do I will publish them right here.

Return from Minton Bone China to homepage or alternatively back to Antique Bone China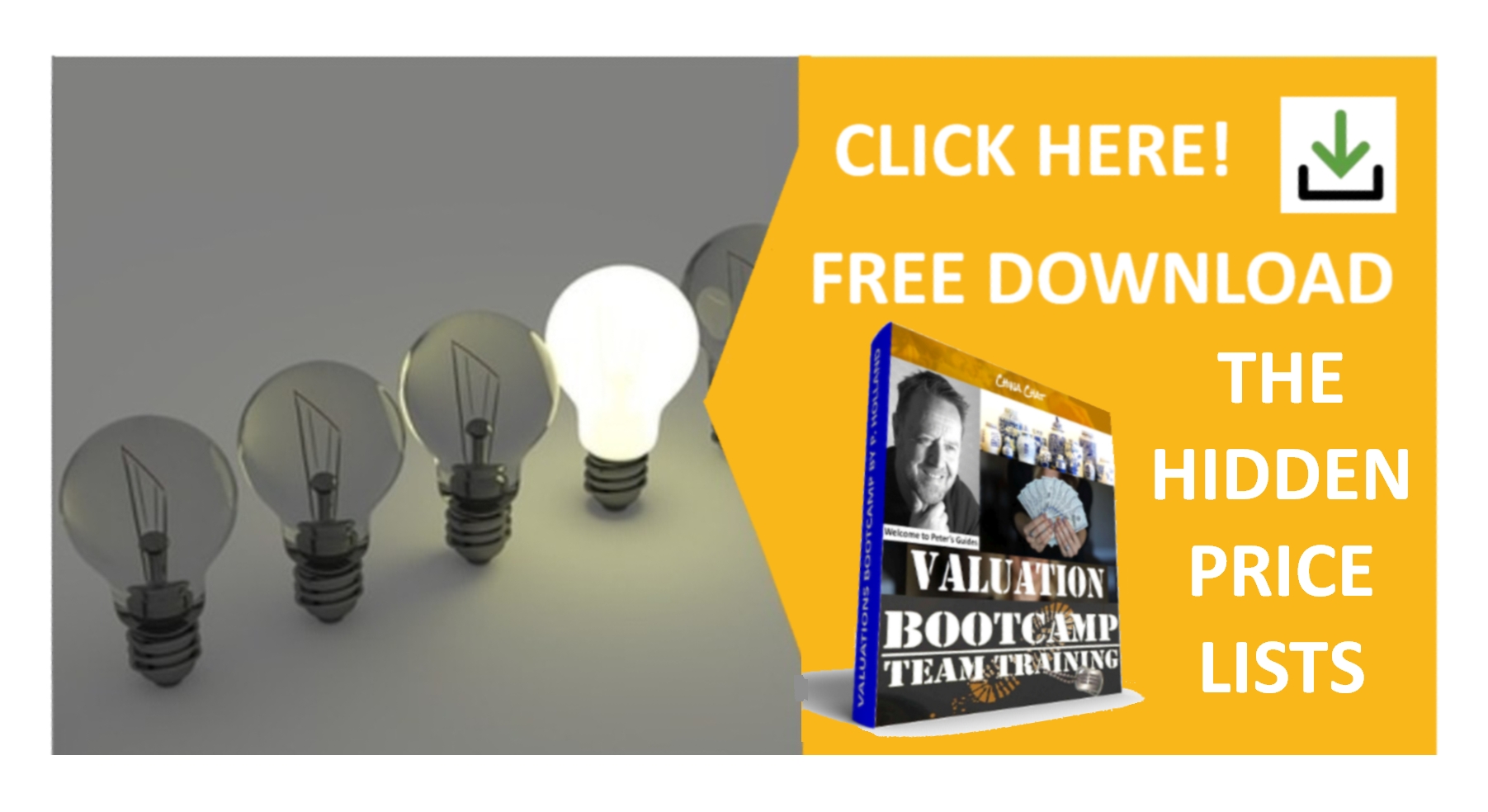 "Your guides are a blessing to us" Cindy Johnson