Antique Bone China Answers To Royal Worcester Backstamp Question
by Stewart
(UK)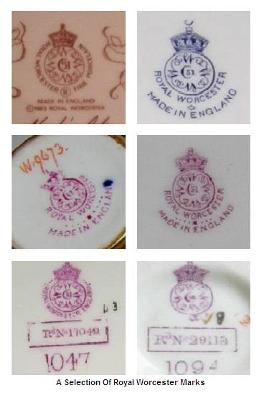 Antique Bone China Answers To Royal Worcester Backstamp Question - a selection of Royal Worcester Marks
Antique Bone China Answers To Royal Worcester Backstamp Question:-


We have a Royal Worcester antique bone china set of cups and saucers that we are unable to date or find the name of the pattern.
Just wondered if you could help. The cups are coffee cup in size, with the marking
Royal Worcester (R)
Fine Bone China England.
There are no dots.
The pattern is gold rimmed, flowers but not in colour, monochrome only, quite plain in shape.
Thanks!!
Stewart
Reply from Peter (admin) below - just scroll down
HOW I MADE MONEY FROM BITS & BOBS OF OLD CHINA

.....more
Reply by Peter (admin)
To: Antique Bone China Answers To Royal Worcester Backstamp Question
Hi Stewart
Thanks for gettting in touch.
From the info you supplied, my guess is your Royal Worcester coffee service dates from the 1956 to 1972 production era, as in these years there were marks with 'R' which may not have had dots added for the years. 1956-1958 were mainly associated with 'R' mark with dots.
Here's some info which will help everyone with their Royal Worcester backstamp dating:
Puce marks date from 1900 to 1941
1941 to present: black backstamps
Note:
Green marks used for:
Boer War Soldiers
First World War Soldiers
Blue marks used for:
limited series only
Red marks:
Very few.
Royal Worcester - Basic Marking System
Four linked W's crest surmounted by a crown:
Begun 18621891
- the words 'ROYAL WORCESTER ENGLAND' appear ringed around the crest.
Every following year until 1903 a dot is added near the crown
To the left side - even years
To the right - odd years.
1904
dots are also put under the crest:
as follows:
One for each year until 1915
1916
A star is used to replace all the dots accumulated to that date.
Then
a single dot added for each year through to 1927.
Puce Marks
1928 Small square
1929 Diamond
1930 Three horizontal lines
1931 OO (two circles)
1932 OOO (three circles)
1933-1938 Three circles and one dot
1939 Then a dot for each year
Black Marks 1938 To DateB-1
Black One
1938 Three circles and 6 dots
1939 Three circles and 7 dots
1940 Three circles and 8 dots
Blue wavy line sometimes added for 1938, 1939 and 1940
B-2
Black Two
1941 Three circles and 9 dots
1942 Three circles and 10 dots
1943 The black mark with no date code
1944 Bone china in large letters
1945 to 1947 The black mark with no date code
1948 Bone china in small letters
B-3
Black Three
1949 Black mark with V
B-4
Black Four
1950 Black mark with W
1951 to 1954 Black mark with W and one
1955 dot added for each year
B-5
Black Five
1956 R and 6 dots
1957 R and 7 dots
1958 R and 8 dots
1956 to 1972 Black mark which may or may not have dots added for years
1988 Black mark with M inside a diamond (M replaces R)
1989 Black mark with N inside a diamond (N replaces M)
1900 to date:
Black mark with R inside a circle (Reverting back to the R inside a circle but with lithographer's numbers added to indicate the year).
At-a-glance Worcester Marking System
1862 - 1915


Hope that helps!

If you'd like any further help identifying the pattern or if you're wondering how much it's worth, I suggest you click on the link below which takes you to a page I've written especially to help visitors to my site research their wares.

www.figurines-sculpture.com/antique-china-values.html

My unique identification & valuation resource puts you in touch with a professional appraiser (checked out my me personally!) who lets you see if the mark is identifiable by experts without you having to pay any money upfront. This service is unique online and is designed to protect my site visitors from wasting their time and money online.

Best regards,

Peter (admin)