T. Pearce & Son, 23 Ludgate Hill, London (2 No8094) (Dessert Set)
by Margaret C.
(Fort Payne, Al. USA)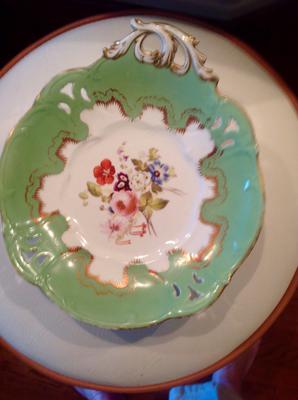 Plate
I have a 40 piece Dessert set that is marked as above. Every plate and serving piece is Apple green, white with gold.


There are hand painted bouquets of flowers on every piece. No two bouquets are identical
They Belonged to Barnard Baruke, an advisor to FD Roosevelt.
Mr Baruke used them at his plantation (Hobcaw Barony) in Georgetown County, SC.
Mr. Baruke has several books written about his life at "Hobcaw Barony". When his guests came; they stayed for up to a month at a time.
Winston Churchill was a guest several times. Also FD Roosevelt and his wife Eleanor. They generally came separately but both came fairly often.
He also had the Hollywood set. Joan Crawford, Bette Davis, Charlie Chaplin and most of the top stars of that era.
I like to imagine the dinner parties they had and of course my dessert set is always the very thing they used for their dessert. Joan & Bette probably ate off of the plates that I eat off of now. ( imagination can be very entertaining.)
Mr. Baruke had a daughter who would play hostess and I think she inherited "Hobcaw Barony". At her death it was turned over to the state of SC.
It now has a wildlife refuge and they study wildlife there.
My children have no interest in this type of thing so I wanted to know if you know any way to find just where this was made. I think T. Pearce was a seller of fine China.
It is a beautiful set of dishes and there are no cracks or fading.
M. Craft
I will try to attach a picture or two.