porcelain china plate davenport 44
by ryan ricciardi
(enfield london uk)
i recently purchased a davenport porcelain china plate.


i wanted to find out more so i have searched the internet but i have had no joy.
the markings on the back of the plate say
davenport shiras the marking is engraved with 44 eitherside of the anchor. i convinced this means it was made in 1844 but i am not sure.
i want to find out more about this plate and its value
please help
Ryan
Please contribute to this thread by writing in the comments section below – just scroll down...
HOW I MADE MONEY FROM BITS & BOBS OF OLD CHINA

.....more
porcelain china plate davenport 44
Peter (admin) says:-
"Davenport" on the backstamp of a piece together with an anchor normally would indicate the factory of John Davenport or his sons.
This Davenport factory of Longford, Staffordshire goes back a long way (as far as 1785, when John Davenport was first in partnership with Thomas Wolfe). He branched out on his own around 1794 making earthenwares, but in it's time, by 1815, his factory went on to produce both fine porcelains and pottery. Although it didn't survive into the 20th Century, it is an important part of Staffordshire history.
It was begun by John and passed onto to his sons, Henry and William Davenport. After 1835 following Henry's death, it became known as William Davenport & Co and then in 1869 when William died it was run until 1887 by his two sons.
With regard to the 44 mark either side of the anchor, my Goddens encyclopaedia states that up to about 1860 the Davenport had one version of their anchor mark which had these date markings, so yes, the 44 does denote 1844.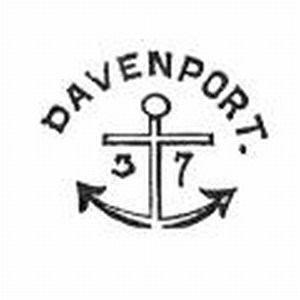 This would be consistent with the William Davenport company.
For values, go here:-
My vintage and antique china values page
I have also published a page especially to help visitors help themselves which contains all the searching, valuation and identification tips, links and websites etc called
Value of Antiques & Vintage China - Identification Help Page
Please enjoy all the free resources of this site and welcome!
Peter (admin)