Cherubs Holding Flower-Unknown Marks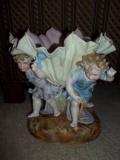 Hi~I rc'd this large figurine...meas 11" tall and 10" wide from my ex mother-in-law as a wedding gift. Since the marriage has dissolved, am interested in its value. Have done extensive research on-line but can't find these marks anywhere. Imprinted scrolled H and then E...also stamped number 103N followed by a scrolled R. Not sure if its porcelain or what. If anyone could help it would be greatly appreciated. If pics are unclear due to size restraints, I could email them to you directly. Thanks ahead of time.
Join in and write your own page! It's easy to do. How? Simply click here to return to antique bone china.
Jul 30, 20 03:22 PM

Royal Crescent travel poster by contemporary artist Peter Holland. Contact here to order print or contact for commissions

Jul 17, 20 11:12 AM

Pulteney Bridge Poster by Peter Holland, local artist

Jul 17, 20 11:11 AM

Bath Abbey Poster by Peter Holland, local artist.