Chelson China query - Photo 2 - Backstamp
by CB
(UK)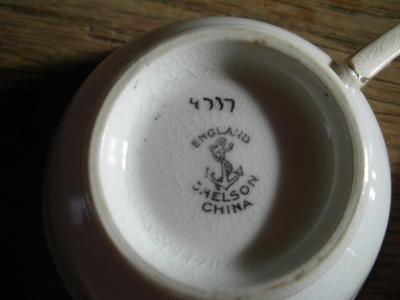 Chelson China antique bone china query - photo of backstamp
I purchased this fabulous but incomplete tea set at an antiques auction recently. The China is called Chelson China, England, with a pattern number of 4337 (i think!) but cannot seem to find much about this china.


I am also looking to find the milk, sugar bowl and tea pot to match but am having trouble even finding any Chelson items at all! I do know Chelson made for Harrods but i can't find my style, although the Harrods one does look very similar.
I bought this and another part tea set (will send seperate e mail) for £45, i thought quite a bargain as i love teacups & saucers.
I have attached two pics, please can you let me know a bit more about Chelson and its past, and where i could possibly try and find the other missing parts! And also could you date it?!
Some of the tea plates and saucers are a little bit damaged. I also have two square cake plates (i think) aswell. Someone has damaged some of the pieces in the past but they have been 'stapled' together & someone has done a good job of fixing them.
Reply from Peter (admin) below - just scroll down
HOW I MADE MONEY FROM BITS & BOBS OF OLD CHINA

.....more
Reply by Peter (admin)
To:- Chelson China antique bone china query
===============
UPDATE
Jamie, kind contributor has solved this mystery mark (see comments section). Jamie says this:-
"Regarding Chelson China:-
Have a look at http://www.potteryhistories.com/newchelsea.html
Chelson was a name used by them in the 1920's.
The pottery was started in about 1900 by RH and SL
Plant and became NEW CHELSEA PORCELAIN CO. in about 1912. It operated under various owners until 1951.
end update
===============
read my original answer below (unedited).....
Hello CB
Please enjoy all the free resources of this site and welcome!
Thanks for your nice post, I really appreciate you taking the time and trouble to provide so much information about your tea set.
I'm afraid this one is going to have to be a 'work-in-progress" and we may need some help from our resident super sleuths like Melissa.
Here's what I know:-
* There is no mention of Chelson in either Goddens or Kovels. Odd. Why?
* There is a bit of it around, but not that much.
* A visitor on another website says "I have a Chelson china tea service, with a black ridge.(made by Stoke Potteries) given to my grandmother by her employer whist in service, as a wedding present in 1925" (see http://www.theanswerbank.co.uk/Arts-and-Literature/Question504114.html)
* 'Stoke Pottery' was a brand of famous Longton maker Grimwades (Royal Winton).
* Another brand of Winton was 'Atlas', formerly a brand associated with Delphine China based in Chelson Street, Longton. Goddens do not show a Chelson backstamp mark associated with Grimwades or Delphine (H & M)
Can anyone else fill in the gaps?
I hope this information is useful. If anyone else can help with this query then please leave a comment below.
Best regards,
Peter (admin)
p.s. The following page is a 'must see' if you are researching fine china - for value and identification:-
Researching the identity and value of antique and vintage fine china
.
Please post comments below which you think might be helpful……