Mark Pottery Mark - crest within a circle, two wavy lines, W A L? - on sugar bowl-help to identify?
by Chantelle
(Manchester, UK)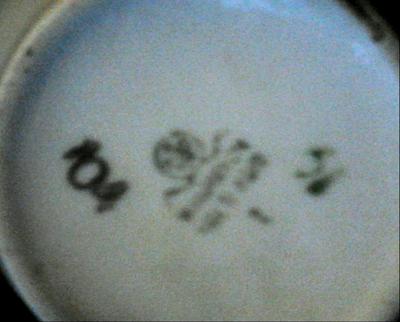 Close up of mark - Pottery Mark - crest within a circle, two wavy lines, W A L?
Hello everyone! I've been collecting what I call "old stuff" all of my life. My eye has always been drawn by pattern design, material, shape and the way it has been crafted (hand-made being my personal favourite).


I have collected more for my appreciation of the art than the value, so I am some what clueless when it comes to identifying marks. As well as ceramic my collection includes antique and rare books, vintage silver ware, curios, music memorabilia, vintage glass and vintage and boutique clothing.
It's gotten quite large over the years, and to convince my loved ones I don't have a problem with hoarding I have started an on-line bazaar....
I have managed to date and identify majority of my collection, but I seem to be stuck on this one piece. It is a beautiful sugar pot that I picked up from a charity shop in Penzanze, Cornwall, whilst on holiday.
To me the makers name in the mark is illegible, as is where it was made. I have trawled pottery identification indexes until I've gone cross eyed, but I just can't seem to find this one!
It looks like a crest of some sort, within a circle with two wavy lines coming out of the bottom. The manufacturer name looks like it starts W A L
This item will be sold on my bazaar, but I don't want to do so until I can identify it's maker - not only so I can have it appraised for it's correct value, but also so I can give full and correct description information for potential buyers.
If anybody can help me with this I will be eternally grateful.
Chantelle