Mystery hand painted with orchids fluted porcelain bowl with ELP or ELF marking
by Carmen Johnson
(Henderson, Nevada)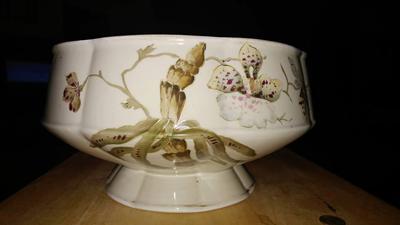 fluted fine china (porcelain?) bowl painted with orchids
Dear Peter abd readers


I wonder if anyone can help.
I purchased this bowl at a yard sale and I don't know any history about it.
I have searched many forums and posted inquiry's on them as well as join groups to see if anyone could tell me about it.
The greatest challenge is finding out anything...
where it was made,
the year it was made,
what the initials "ELF" or ELP mean,
what the numbers on the bottom of the bowl mean
The frustration is me not finding out any information after doing exhaustive daily searches for information.
After I find out more about this bowl I will share it with others that are interested about this bowl.
I paid to have this bowl researched/appraised, but was issued a refund because Peter (admin) could not help with the identification...
so no luck on that front
What I do know about this bowl is: It is a hard paste porcelain bowl, the orchids that are hand painted on the bowl are called Catasetum Genus.
There is guilding on the bowl, but not sure if it's real gold or not.
The numbers on the bowl 4655 might be the pattern number.
The initials are stamped into the bowl on the under glaze since it is glazed over.
The initials are "ELF. There is a chance that the initials are "ELP."
The bowl is 10 inches in diameter. 5 1/2 inches tall. Weighs 4.16 pounds.
Thanks in advance for any help with this.
Carmen