Porcelain mark on Santa Claus figurine with green sailing boat mark
by Luis Aurelio Álvarez
(Mieres - Asturias - ESPAÑA)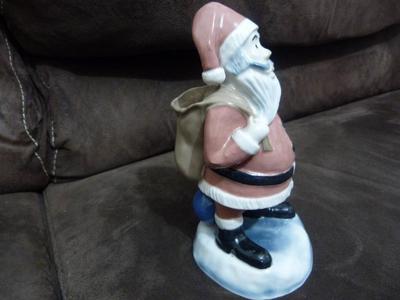 Porcelain mark on Santa Claus figurine with green sailing boat mark
Hello Peter and everyone


I need help in order to identify a porcelain mark of a figurine of Santa Claus. The figurine is 20 cms tall x 10 cms long x 10 cms wide. The colours are pale red of coat and cap, black of the belt, boots, and eyes, brown of sack, and pale blue-grey in moustache, beard, and hair.
The mark under it, is all blue. That blue mark is a sail ship at sea into a circumference, and under it some words blue on a blue line.
I don´t know where was made. I was looking for in some specialized forums of ceramics and porcelain but I cannot find nothing about it. I saw hundred of different marks and countries, but only United Kingdom has some that uses a ship as a porcelain mark but are differents of this one.
I´m a spanish amateur collector of porcelain figurines. Most of them from Germany because I like porcelain figurines of birds, but in this case the figurine is a Santa Claus with nice colours and tones.
It was acquired in a antiquariam shop of my city, Mieres, Asturias, in the north of Spain. The main porcelain of Spain is Lladró or Nao, but the porcelain mark of the Santa Claus figure, I think that isn´t Spanish.
I would like to know where was made, the factory or any other question about it, and I apply help of you.
Thank you very much:
Luis Aurelio