Tall Slim Copper Brown Clay Abstract Lady Figuring with Impressed Oriental/Asian Stamp Mark
by sharonb
(london)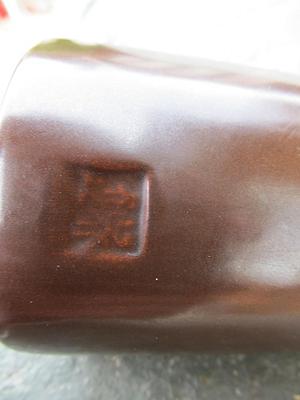 Tall Slim Copper Brown Clay Abstract Lady Figuring with Impressed Oriental/Asian Stamp Mark
Tall Slim Copper Brown Clay Abstract Lady Figuring with Impressed Oriental/Asian Stamp Mark:- I discovered this lovely figurine of a female figure in a charity shop. She is approx 13" tall and brown iron glaze.


I think I have been through loads of data and cannot find this particular mark. It looks almost quasi oriental and shows 2 sets of vertical lines topped with an inverted 'V' but it overlaps so could possibly be initials.
Also, at the top right side looking at it you can clearly see 19 and on the bottom row diagonally opposite is 26 possibly the date or a pattern number the whole is enclosed inside a rectangular depression on the base is mark free I originally thought that I could make out a letter c but perhaps a trick of the glaze which is a bit irredescent.
As always I picked up this piece because I loved it on sight it is very simple but pleasing it depicts a female form quite elongated with hands behind head the head is small.
I am a dabbler rather than a serious collector of any one specific item I buy what I like and have been lucky over the years in picking up various bits and bobs.
As we have gotten older and have downsized I have to be quite strict with myself and limit what I can and cannot keep. My hubby does not know the half of it it is amazing how much you can fit into a nice display cabinet these days!.
I have made a concession that I will keep my items for so long and if I see something that I must have I have to get rid of one piece in order to buy another.I have discovered the joy of ebay but freely admit that I bring in a lot more than I take out.
I have been trawling through various sites to try to discover the origins of this latest find I keep edging towards the studio potters St Ives etc but as yet have not come across this mark. At the same time that I came across this I bought a piece of silver and cannot find the relevant hallmarks for that either although I am narrowing it down gradually and learning all the time.
Sharon