Help...Crown above M mark
by Sally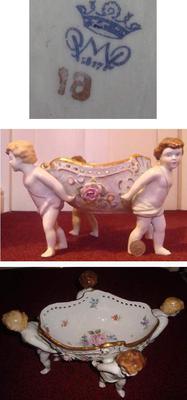 M crown mark
I recently bought these cherubs carrying a pierced floral dish from an outdoor antique market in Newcasle-u-Lyme, Staffordshire, England. The 4 cherubs are 17cm high (10 pence piece by his foot shows the scale) and the dish has applied flowers on the outside and handpainted flowers on the inside. Would love to know the maker and date.


I'm good at finding makers marks, but this one has stumped me.Help !
Thanks in anticipation!
Sally