Incised 'W' or Wavy Line Pottery Mark on 25 piece pot-de-creme set
by Elizabeth
(Colorado, USA)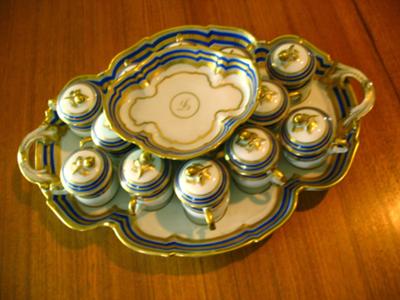 Incised 'W' or Wavy Line Pottery Mark on 25 piece pot-de-creme set
Incised 'W' or Wavy Line Pottery Mark on 25 piece pot-de-creme set:- This 12 covered cups, 2-level tray set was given to me by a friend who is 'downsizing'. She bought it at the sale after the death of another friend. All three of us (and the set) have spent most of our lives in the western USA.


Looking forward to the information.
Elizabeth
==========================================
Please contribute to this thread by writing in the comments section below – just scroll down...
HOW I MADE MONEY FROM BITS & BOBS OF OLD CHINA

.....more