Moorcroft Vases Get All Fired Up Again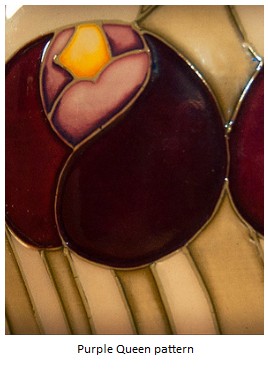 Moorcroft Vases sell more new production today than they did in their heyday. What's the story behind this famous Staffordshire Pottery?
The Moorcroft pottery firm was born of an association of James Macintyre & Co with a young 24 year old ceramic designer called William Moorcroft in 1897, Staffordshire, England.
Originally a studio within James Macintyre & Co, Moorcroft was backed until 1962 by Liberty of London, a company well known to me as I was a buyer for Liberty before I became a full time ceramic sculptor in 1993 (still going strong, enjoying writing about this fabulous maker).

The Heart of Burslem
William Moorcroft was a born and bred Staffordshire potter, hailing right from the heart of Stoke in Burslem, no less.
Born in 1872, he soon flew the nest, wanting bigger and better things – going to Art School in London and then completing his artistic training in Paris.
An artist with an artist's take on pottery
So it was obvious from the start that Moorcroft was not just a good potter, he was primarily an artist with an artist's take on pottery.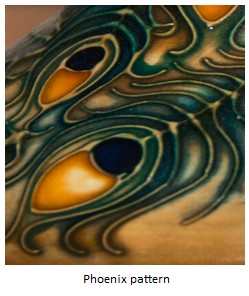 It was almost inevitable that he would develop his own unique style and technique which would go on to become world famous and synonymous with his name.
The techniques were complex and difficult to produce involving precision lathe work, slip trailing / tube lining, color application one over another to blend with each other and the over-glaze producing a brilliance of color.
Each Moorcroft vase was signed as if it were an original piece of artwork (which, of course, it was).
Awards & Plaudits with Liberty, Tiffany and Shreves
Moorcroft vases won the young man his first gold medal at the St. Louis International Exhibition in 1904.
He went onto supply Tiffany of New York and Shreve & Co. of San Francisco (he was already supplying Liberty of London).
Moorcroft vases continued to develop. He never stopped pushing forward to new heights. In the 1920s he began to work on his Flambe glazes and produced the famous large exhibition vases shown at the British Empire Exhibition at Wembley in 1924.
Appointed Potter to HM The Queen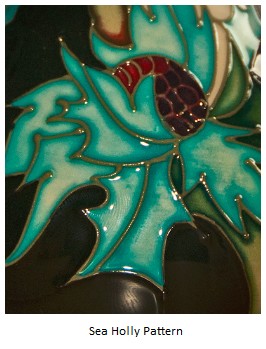 Moorcroft was appointed as Potter to HM The Queen in 1928. He readily survived the slump of the 1930's and continued to attain great acclaim for his vases right up until his death in 1947.
By this time, his work was being exhibited in museums all around the world.
Moorcroft's elder son, Walter, took over management and design on William's death. Unfortunately, unlike many family ceramic firms that we see as household names today, Walter was unable to take the baton and really run with it. Walter was talented and tenacious alright, but things were against him.
Minimalism, War and the 1960's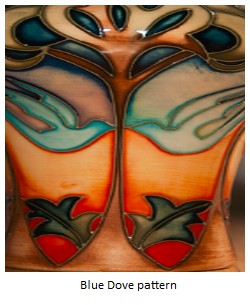 In Walter's time in charge (1945 - 1984), the Aesthetic, Arts & Crafts and Art Nouveau periods which had been Moorcroft's design basis were well over and Art Deco minimalism had overtaken, followed by austerity and then the swinging 60's.

Notable second and third generation stars of family firms are people like Henry Doulton, Herbert and Colin Minton, the brothers Johnson, Josiah Spode Jnr, and Herbert Aynsley etc etc. They were all visionaries of their time who knew what to do to move things forward.
Sadly not the case with Moorcroft which was known for only one thing, in reality. Meantime many potteries closed, but some, with visionary artists at the helm, grew and thrived (for example Susan William-Ellis at Portmeirion China).

So How Did Moorcroft Keep Going?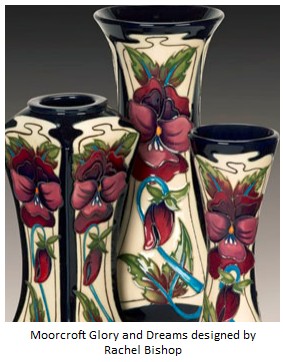 They remain a successful firm today mainly due to their long-term patronage by Liberty of London and the tenacity of Walter to take the company through the difficult times come what may - the changes of fashion, World War 2 and the post 1960's recession in the pottery industry..
In 1984, the family sold the bulk of their shares on the open market and no longer have a say in the running of the firm.
In 1993, Rachel Bishop joined the company. She was only the fourth designer of a Moorcroft vase in nearly one hundred years.
Today, under the successful stewardship of Bishop, the company sells more of its vases than it did in its heyday in the 1920's.
For Reference -
A list of some of the better known Moorcroft patterns

CLAREMONT
CLEMATIS
COLUMBINE
CORAL HIBISCUS
CORAL HIBISCUS
CORNFLOWER
DAWN
DINOSAUR
DRAGON
EVENTIDE
FAIRY RINGS
FINCHES
FINCHES
FLORIAN
FRUIT & VINE
GRAPE AND LEAF
HAZLEDENE
HERON
HONEYCOMB
LEMON
MAGNOLIA
MOONLIT BLUE
MOORCROFT BLUE
MOORCROFT YELLOW
OWL MOORCROFT POTTERY
ORCHID
PANSY
PERSIAN
PINEAPPLE
PLUM
POLAR BEAR
POMEGRANATE
POPPY
REEDS AT SUNSET
ROBIN
ROSE
SHAKESPEARE COLLECTION
SPANISH MOORCROFT
SPRING BLOSSOM MOORCROFT POTTERY
SUNFLOWER
TEMPTATION
TULIP MOORCROFT
VIOLET
WILLIAM MORRIS BLUE MOORCROFT POTTERY
WILLIAM MORRIS IVORY MOORCROFT POTTERY
WISTERIA
return from Moorcroft Vases to homepage or alternatively back to china manufacturers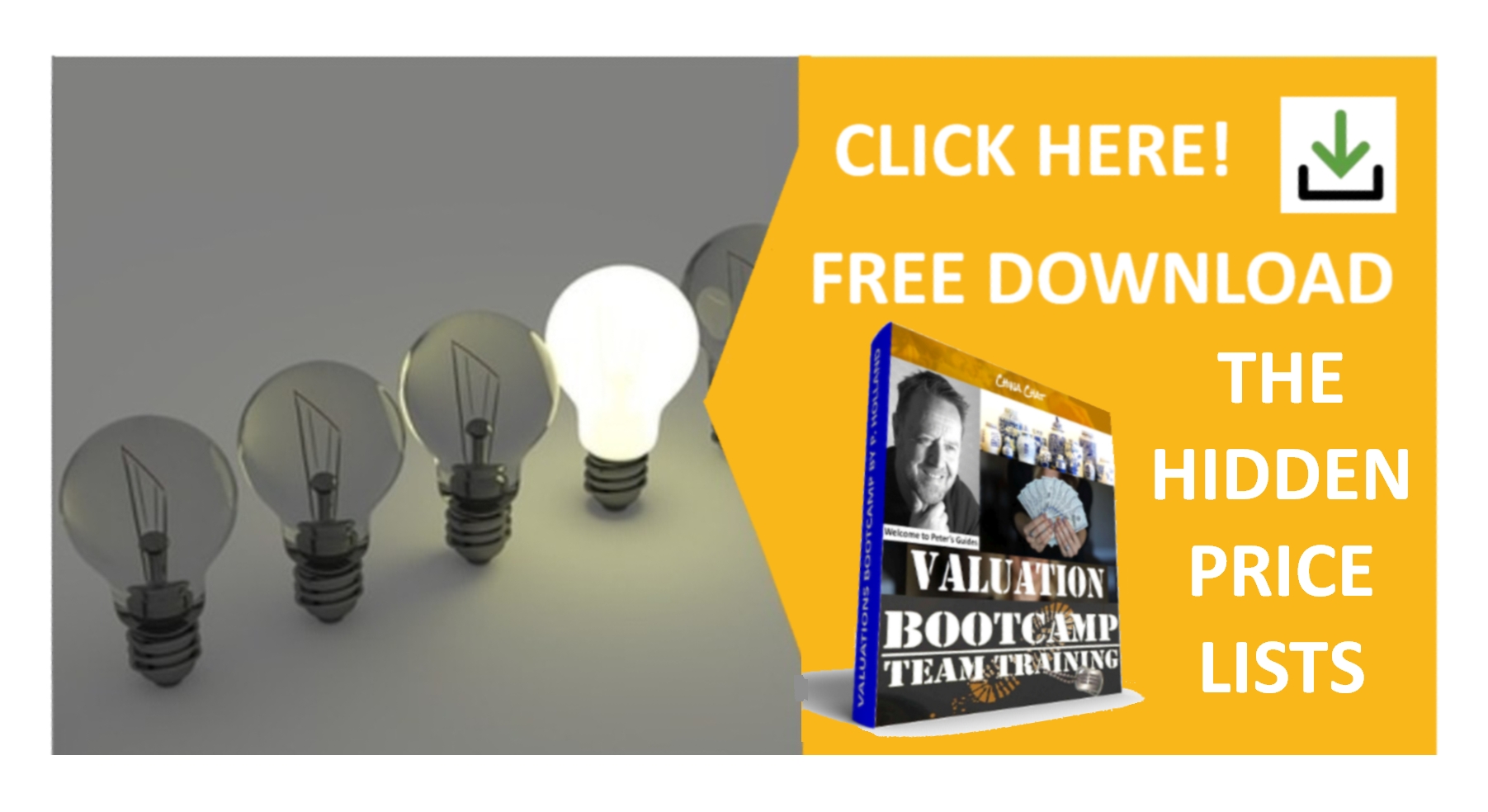 "Your guides are a blessing to us" Cindy Johnson