New Chelsea China - Antique China and Fine China Collectibles Query
by Dianne Osborne
(UK)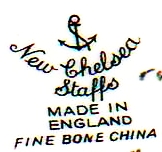 New Chelsea China - Antique China and Fine China Collectibles Query: New Chelsea China Mark - used from about 1936 onwards
New Chelsea China - Antique China and Fine China Collectibles Query:-


Hi Peter, Please can you help, my mother has just died and she has as new a tea set with side plates, pot, milk jug, sugar bowl and large plate in New Chelsea Staffs Fine Bone China. Is there anyway you can tell me if there is any value to this.
Many Thanks
Dianne
=====================================
Reply from Peter (admin) below - just scroll down
HOW I MADE MONEY FROM BITS & BOBS OF OLD CHINA

.....more
Reply by Peter (admin)
To:- New Chelsea China - Antique China and Fine China Collectibles Query
Hi Dianne
Thanks for your interesting query about the New Chelsea China you inherited. I'm sorry you got hold of it in sad circumstances.
First of all I need to stress I don't do valuations. It is a specialist area requiring vast amounts of knowledge and research material.
Your query really sparked my interest because it brought to light some very interesting discussion points and something of a mystery.
I did not really know about New Chelsea China so checked with Goddens encyclopedia and online.
Based in Longton, Staffordshire, a company founded in 1912 called New Chelsea Porcealain Co. (Ltd) changed its name in 1951 to New Chelsea China Co. Ltd. This newer enterprise lasted only 10 years when it either merged with or became somehow associated
with a company called Grosvenor China Ltd 1961 to 1969. Grosvenor China was previously the brand of a company called Jackson & Gosling (founded 1866 and ceasing in 1961).
These intertwined company dealings are typical of Staffordshire makers and makes the history quite hard to follow at times.
What makes this New Chelsea pottery mark more of a mystery to me is I read in what is normally a reliable source that New Chelsea was part of the stable of R. H. and S. L. Plant Ltd (known for their Tuscan mark which later became the bone china maker for Susie Cooper).
This link is not been mentioned in my edition of Goddens and is not mentioned in any other of the sources when I cross-checked. I can only think the New Chelsea association with Tuscan/Plant is either a typo, or very little is known even by the best sources.
From about 1943, New Chelsea China Co. Ltd started to use the 'Royal Chelsea' pottery mark. I presume this was a marketing ploy as I don't know of any warrant to justify it.
If anyone else can shed any light on this mystery please leave a comment below.
Best regards,
Peter (admin)
p.s. The following page is a 'must see' if you are researching fine china - for value and identification:-
Researching the identity and value of antique and vintage fine china
.