Pottery Mark Query - Blue 5 point crown with T symbol inside circle underneath and number 5074
by Gemma
(Cardiff, UK)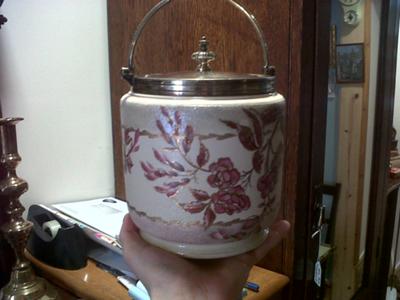 Pottery Mark Query - Blue 5 point crown with T symbol inside circle underneath and number 5074
Pottery Mark Query - Blue 5 point crown with T symbol inside circle underneath and number 5074:- Hello, I have been given this biscuit/cracker barrel and I am interested in finding out more information on it as I can not find the makers mark online and I don't know anything about it's history.


The barrel itself has an textured glaze with a pretty flower and leaf design with a bronze metallic detailing. The texture of the barrel feels to me like it has been rolled in sand and then brushed off, if that makes sense to anyone.
The top is a silver coloured metal with 08 engraved into the underside of the lid and on the hinge of the top, long handle. The small knob on the top of the lid is in the shape of a crown.
The symbol of the base is a blue 5 point crown with initials underneath. I think one of the letters is a T and the other could be a Z or G or even an S but it is hard for me to try and make out.
Any information would be greatly received.
Thank you very much
Gemma
==================================
Comment by Help Elf:-
This mark is currently in the 'unknown' category. It is unusual in that it has a symbol made of unrecognizable shapes.
My problem is that can't really read the logo and was debating as to whether it said:-
TG
TC
TTG
TTC
TTTG
TTTC
The biscuit barrel itself is typical in shape and design of the early 20th century or late 19th.
Call out to everyone to please try to help with this one - go to the comments link below.
If anyone had a similar mark, please post below.
=============================================
Reply by Robert Moore
The maker is Taylor, Tunnicliffe, & Co. England, who were founded in around 1875. This mark was used from the start until 1898.
==============================================
Peter (admin says)
Thanks for that answer Robert - I looked at the mark again and again and realised the symbol (which looks like it might be written in Russian Cyrillic letters) might, in fact, be a 'T', then another 'T' just underneath, then a cursive 'C' (perhaps for 'Co' / Company).
Great work again by our visitors. Thanks everyone for contributing!