The Pottery and Porcelain Marks China Chat - English Section

An Introduction to English China & Porcelain Marks



English china production has a long history going back several hundred years.  Pot factories needed both clay and coal.  Historically there were three main centres of production where the combination of resources were readily available. 

Staffordshire, Worcestershire and Derbyshire fitted the bill and so became the centres, the former being the biggest.
Organised marking of wares for marketing reasons only became standard in the Victorian era of the mid to late 19th Century.
Early marks were dots and squiggles, on splendid earthenware chinoiserie before the elaborate cartouches of the Victorian mid-period began to trumpet proud ownership.

There was no true porcelain being made in the UK until the 1750's despite desperate attempts to make the white gold.  Worcester were the pioneers of porcelain production, following on from the lead of German Company Meissen.  It took 40 years for the English to catch up with the Germans.
Staffordshire came into its own in 1799 when the firm Spode developed a stable recipe for bone china porcelain.  The rivalry had truly begun. 
Meantime, Derby amalgamated with the famous London firms of Chelsea and Bow, who had moved lock, stock and barrel to Derby in 1784.  Derby, like Worcester became porcelain marks specialists.
Recognising porcelain marks on old (early 1800's) Staffordshire wares
A fancy old solid looking plate, or pitcher, or cup (not transluscent or thin) with no pottery marks and a crackled old glaze over blue & white or Imari (chinoiserie) patterns is likely to be Staffordshire early to mid 1800's (unless it's a modern Chinese fake, in which case it will more than likely have a crusty old-looking made-up mark).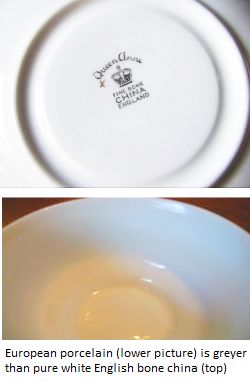 Whereas the words 'bone china' indicates modern English - likely early to mid 20th century.
The word Royal often suggest 20th century too, although the first warrant was as far back as the 1850's.
So how do you tell bone china from porcelain?

Bone china is very distinguishable from European porcelain being whiter (less grey in the body) and having a quite characteristic method of glazing and decoration.
If the stamp says the actual words 'bone china', the item is likely 20th century.
The ox bone in the bone china makes it actually harder and more translucent as well as whiter than European porcelain, but because it is fired at a slightly lower temperature, actually the two bodies are probably just as strong as one another.  I don't suggest you test this theory.....
The Word 'Royal' on a China Backstamp

 I saw the word 'Royal' on a plate the other day and it made me think - surely there must be a time when this dishing out of warrants to put on posh porcelain marks was started.

When did our nobility start ennobling our nicest porcelain marks?
Well, after 1850 is the date you are looking for..... Yup, nothing says 'Royal' before 1850.
Then only a few fab firms had the privilege of warrants yet some didn't bother to use it in their names (Wedgwood, Coalport, Paragon for example).
Later in the 20th century, lot's of people started to use it when they shouldn't really have and we have an influx of Royal this's and that's.
Use my A - Z listing of makers to check them out.
Nothing Could Be Finer Than a Nice Bit of Bone China



Now, I hear you ask "bone china"? Surely the term bone china must be as ancient as the hills? Not at all. Bone china was invented in 1799 (by Spode) but the term didn't actually come into general usage until the 20th century.
The Staffordshire Knot

This stems from around 1850, as does the British diamond shaped kite registration mark. However, there was a fad for the Staffordshire knot mark in the later part of the 19th century. So see a Staffy knot and think late Victorian, generally speaking.
You can search ALL THE POSTS using the search box to find your answers or freely browse the archives as you wish (scroll down to the lower part of this  page).
So get to know the 'mark' forums and come back to use them often and participate whenever you can. Help and be helped.

Search for your mystery pottery marks:


If you can't find anything, to post your own query click here....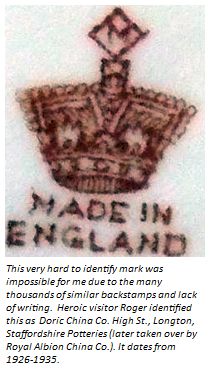 1. China Chat - English Marks
Below are the China Chat archives for English Marks.

Further reading:
Return from Porcelain Marks Archived Forums to Pottery Mark Clues, or otherwise, return to Homepage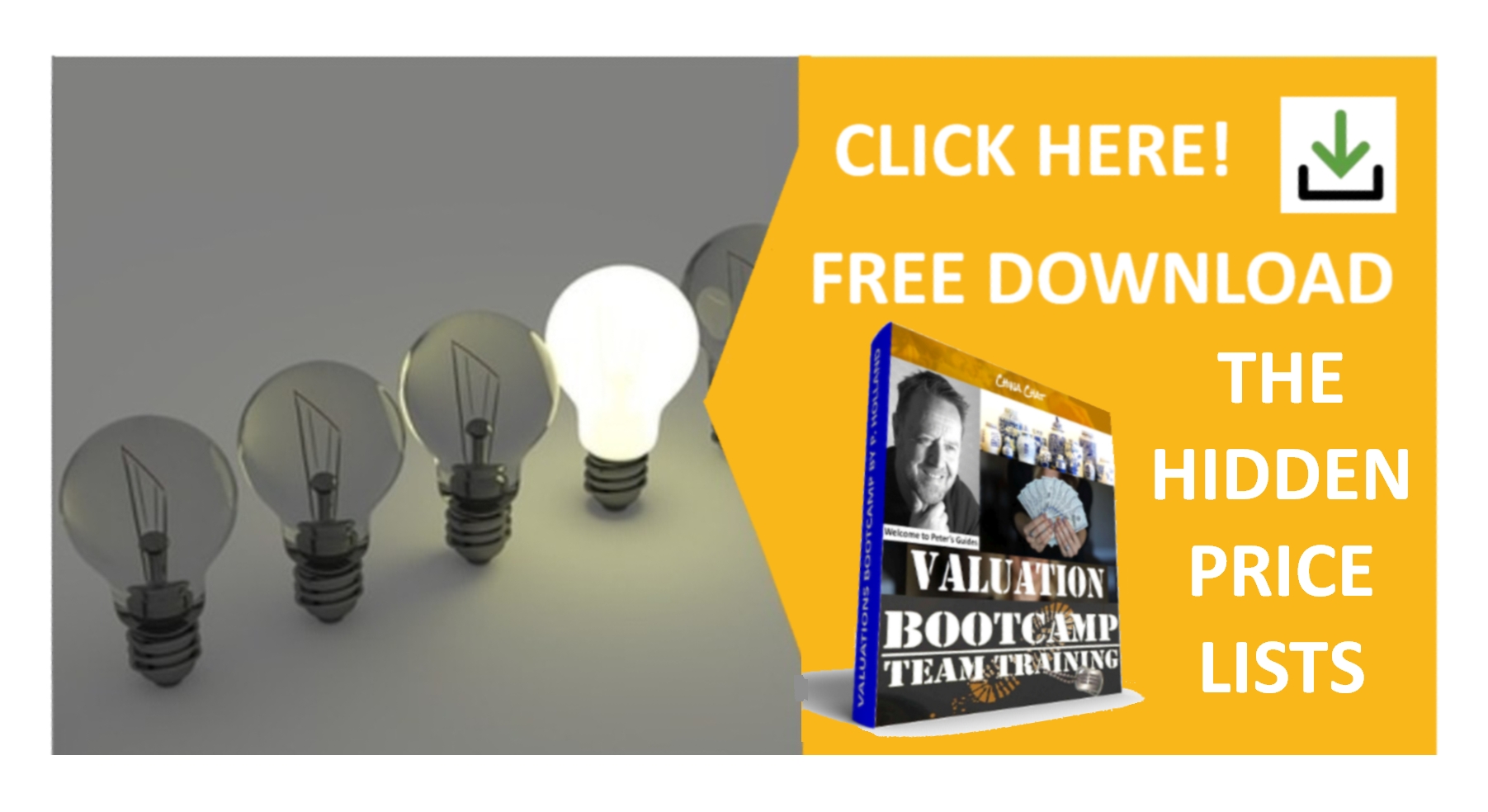 "Your guides are a blessing to us" Cindy Johnson