Birks Sticky Label with 1764 'W' Crown Mark on Figurine bought in 1950's Germany
by jennifer
(offallon mo.)
Birks Sticky Label with 1764 'W' Crown Mark on Figurine bought in 1950's Germany:- Help me i need answers! My grandma brought back a figurine for my parents in the 50s from Germany that is a lady with a fan. the emblem that has a 'W' with a crown under it and has a 1764 and a sticker that says birks i was wonder what all that meant and is it worth anything


Thanks
Jennifer
==========================================
Please contribute to this thread by writing in the comments section below – just scroll down...
HOW I MADE MONEY FROM BITS & BOBS OF OLD CHINA

.....more
Birks Sticky Label with 1764 'W' Crown Mark on Figurine bought in 1950's Germany
Hi Jennifer
We always need photos and I normally do not publish posts which without pics. This is the exception which proves the rule.
This mark is a Wallendorf backstamp - probably one used only after 1963 (which is when they are said to have changed the established date to 1764 instead of 1963 - so your date of the 1950's does not quite tie in with this) but there is no way of telling for sure without photos.
Wallendorf marks are very well documented online (see
Wallendorf Marks at PM&M
) and it is often easy to date their marks from their old production (from 1764) up to their later wares (from 1963 onwards) and everything in between.
Remember, this forum is not a free pottery mark identification service, it is an online public record for everyone to benefit from - and without images of the marks and wares, it would be pretty
useless.
The reason I chose to publish this one is the interesting sticker saying "Birks". This is a new one to this site and I am curious.
Does anyone know about 'Birks' labels and marks? I don't think this has anything to do with the various Staffordshire Birks firms - Birks, Rawlins & Co formerly L.A Birks with the Savoy and Roseate backstamps OR Birks Brothers & Seddon, formerly Cockson & Seddon known as Imperial Ironstone China wares.
There was also a famous Birk who worked for Minton - Alboin Birks. Birks worked at Mintons all his life and was perhaps the most Pâte-sur-Pâte artist, working on prestige Minton pieces for the Queen.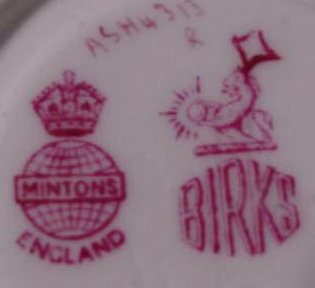 While researching this query, I found actual printed Birks backstamp alongside the Mintons mark. I don't know anything about these Birks/Minton marks and would appreciate anyone with knowledge adding what they know.
I also found other examples of Birks stickers on Wallendorf wares online. This Birk is I feel, a different Birk to all the ones mentioned above.
So the big clue is your parents bought these objects in Germany complete with sticker. Originally, I was thinking Birks must be a US big city retailer, but this information, if true, means Birks must be a German retailer?? Anyone who knows, please shout.
Knowledgeable contributors please try to help more with this one (check out the comments section below for replies).
Best regards
Peter (admin)
p.s. The following page is a 'must see' if you are researching fine china - for value and identification:-
Researching the identity and value of antique and vintage fine china
.
Please post comments below which you think might be helpful……