Six petaled flower impressed mark on very old family tableware service featuring neat hand insignia decoration
by Victor
(Lisbon, Portugal)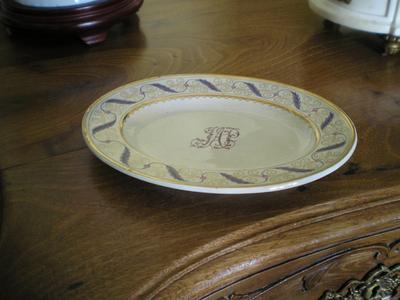 Six petaled flower impressed mark on very old family tableware service featuring neat hand insignia decoration
Six petaled flower impressed mark on very old family tableware service featuring neat hand insignia decoration:- Hello Peter, I'm Victor, from Portugal, and recently, after a death in the family, I inherited a dinner set that was concealed probably for more than a century.


It was in the attic of my family home, which was built in the countryside, around 1810 (around the third and last french invasion of Portugal).
No one knew about it and there it stayed for more than one century, unused, and stored under poor conditions.
I'm not interested to know its value, since I don't wish to sell it, but I'm very curious to know about its manufacturer.
From looking at it, it seems to me to be made in England, but I'm not sure, since I went through every site and mark encyclopedia and found nothing.
I went through your very good website and could find nothing as well.
For some time I thought it to be the 1842 Minton mark, but I recognize this is not the case, since this mark features a eight pointed star and my dinner set displays a geometrical six pointed flower impressed on the paste.
The material seems to be a stoneware (creamware or pearlware), very light and, where it is chipped, displays a whitish and homogeneous paste.
The decoration is fabulous.
I'm sending two photos
which, I hope, will give more information.
Any help will be appreciated.
Yours
Victor
=================================
Reply by Peter (admin)
TO:- Six petaled flower impressed mark on very old family tableware service featuring neat hand insignia decoration
Dear Victor
I wait for posts like this with baited breath....
Just simply to be publishing information on a marvelous heirloom that has been hidden from us for centuries is a blessing. Well done for writing in and I will help as much as I humanly can.
So, I was able to look as my Kovel's reference book for 6 petalled flower marks prior to 1850 and there was only one apppropriate maker listed:-
Longport, Davenport Staffs, c. 1825 (see my maker's guide)
Based on this finding, I then checked out the type of ware they made, and they definitely did make creamware of exactly this type exactly at that time. Here is the evidence......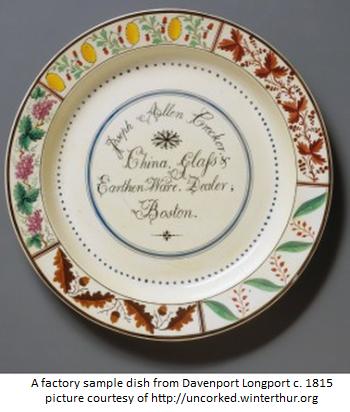 The market at that time would have been well-to-do families commissioning services for their households, so this also fits.
I know you don't want value, but depending on what the services comprise of, Longport early 1800 creamware services can easily reach four figures at auction, just to put you in the picture without being too specific. Good new I don't mind imparting here on the forums, it's the bad news which gets too hot to handle.
Peter (admin)