Pottery Mark Query - Crown above the word HARDY with a laurel leaves surround
by martin christopher
(los angeles, calif , us)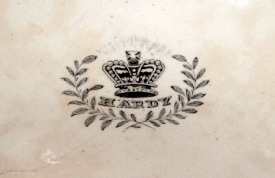 Pottery Mark Query - Crown above the word HARDY with a laurel leaves surround
Pottery Mark Query - Crown above the word HARDY with a laurel leaves surround:- Antique either black & white or black and cream soup tureen with lid and platter. Is either transferware or stoneware and is very heavy. Lots of decoration, scenes of country life with houses, boat on a lake, lady on a horse, children, 1800's costumes inside and out there are scenes bowl very beautiful!


There is the same mark on the bottom of the platter and the inside of the lid and the bottom of the bowl. There is the name HARDY and there is a crow above it with rays shooting out of the crown and there a laurel leaves around the botom and the sides of the name and crown. I cannot find a single thing about this patter and nothing that looks like it?
Martin
Please contribute to this thread by writing in the comments section below – just scroll down...
HOW I MADE MONEY FROM BITS & BOBS OF OLD CHINA

.....more
Peter (admin) says:-
Dear Martin
An interesting and mysterious submission. I can't find any reference to any HARDY in Goddens encyclopaedia of British makers. Hardy may just as likely be the pattern name.
A crown mark by itself (even with the addition of a circular laurel cartouche) does not give enough clues to be of any help to identify the maker as there are simply too many makers using the crown as a pottery mark device.
I saw no references to help identify this maker online either. However, I did find one listing at
www.replacements.com
which shows an old dish with a similar pattern as yours. This website described this as the 'HARDY' pattern from an "unknown manufacturer".
This is the only reference, seemingly in the world, about your items.
Hope this helps your research.
Best regards
Peter (admin)
For general free advice on how to research your collection, I wrote these pages:
My vintage and antique china values page
value of antiques
.