Impressed anchor mark on (English?) porcelain figure
by David
(Sydney)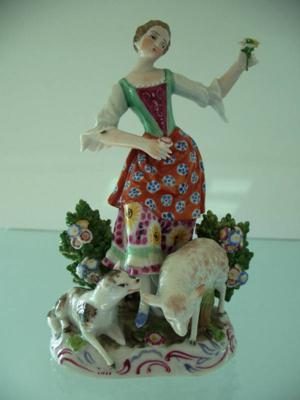 Impressed anchor mark on (English?) porcelain figure
Impressed anchor mark on (English?) porcelain figure:- Hi all, Have been visiting this site for some time but this is my first post. My name is David and I live in Sydney (originally from Blackpool, Lancs) I hope that you can assist me. I bought the figure just recently. It is 15 cms high. The seller had owned it for 30+ years but was unsure about the maker. He had an idea that it could be Chelsea. I know just about nothing about Chelsea but, via Google, have my doubts about it being so (though I'd love to be wrong!!). I believe the Chelsea raised anchor mark sat on a 'tablet" or plinth. Also, this piece seems in extremely fine condition and the potting seems quite fine/refined compared to the (albeit very few) pictures of Chelsea from that period on the internet.


I can not find a match for this anchor mark. Can anyone assist/educate me please??
Kind Regards
David
=================================
Please contribute to this thread by writing in the comments section below – just scroll down...
HOW I MADE MONEY FROM BITS & BOBS OF OLD CHINA

.....more
Impressed anchor mark on (English?) porcelain figure
Hi David
Lovely to see such a nice contribution from an old friend to the site, welcome to the public forums. Glad you are finding the site useful.
First thing to say is whether a genuine Chelsea or not, I love this piece. From my professional point of view (as a figurine sculptor, not an expert) it is beautiful and intricate, yet charmingly naive at the same time. The colours are beautiful and the pose is gentle and flowing and the composition of the animals and backdrop is tight and pleasing to the eye in every respect.
It has the exact mark of the Chelsea factory of the 'Raised Anchor Period' (1749-1752). However, it is likely a later copy. An original would be unlikely to have survived other than in museums and would be valuable.
You may be lucky, it may be genuine, but personally I don't have the knowledge to say one way or the other. Either go to a reputable auction house or use my online valuation service. I send photos on to an experts in antique ceramics. They make a small charge for a full report, identification and valuation. To action this, either email me, or go to this page and fill in the online form:-
www.figurines-sculpture.com/antique-china-values.html
The Chelsea porcelain manufactory was established c.1744. It was the very first important porcelain manufactory in England. Chelsea was known for its figures, birds and animals as well as tableware. Sèvres, Vincennes and Meissen were all an inspiration in terms of design. By 1769 the factory was running into commercial difficulties and was bought out by William Duesbury of Derby. The factory stopped producing in 1784. The 1769 - 1784 period is known as the Chelsea-Derby period. For an overview of early English porcelain, go to my article here:-
Early English China Porcelain
Knowledgeable contributors feel free to try to help out more with this one (check out the comments section below for replies).
For general advice on how to either price up your collection or find replacements for it, I wrote this page:
The Searching Secrets To Finding Your China Replacement Online ….more
.
For specific advice on how to 'save a search' on eBay (for pricing or finding your desired item) go here:
How to easily find replacements, prices and information on vintage and antique china online ..... more
Best regards
Peter (Admin)