eBay Help - China Replacements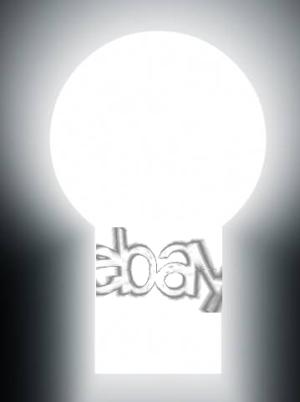 The aim of this page is to share some eBay help and search tips for those looking to buy replacement china.
If you are seasoned eBayer, you likely already know this stuff, but hopefully it will be of help to some.
When looking on ebay, the keyword terms you put into eBay's search box will define whether or not you find your item.
In 2007, we ran a test.
The eBay search box proved a poor aid.

We were trying to locate a Spode 'Chinese Rose Pattern' Large 2 pint jug.
We failed.  The jug was there, just hidden.

We found out, almost by accident, that the jug was being sold on eBay at the time we were searching, but it was hidden by the inept search facility.

So, in the meantime, eBay have spent some of their huge profits on better programmers, and the system is supposed to have improved.
It hasn't.
We have run the same test in November 2013.
Even worse result.
Results of our 2013 test: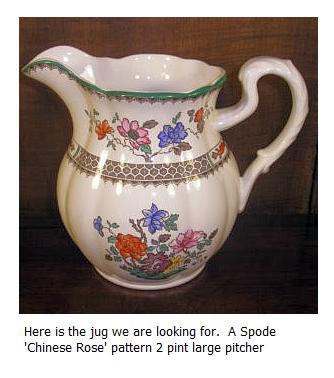 In our china replacements website review page, we use, as an example, a Spode Jug (large size) in the 'Chinese Rose' pattern.
We use the same example in both our 2007 and 2013 tests.

Why?  It is a hard, but not impossible, item to find, and therefore a good subject to use as a talking point for search techniques.
Pitcher or Jug?

Our item is is called two different things. 
Sometimes they are referred to as 'pitchers' (more commonly in the US).  And sometimes called 'jugs' (more common in the UK).
One obvious phrase for many people to use in the eBay search box would naturally (and rightly) include both words....

"pitcher jug Spode Chinese rose"
In both US and UK eBay, this brings back zero search result
"0 results found for pitcher jug Spode Chinese rose "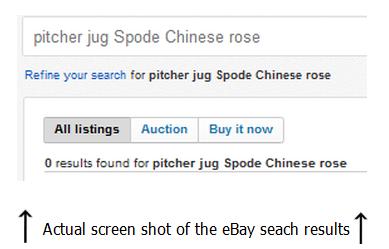 Immediately beneath this zero result is a list of alternative items.
eBay search shows this list like this:-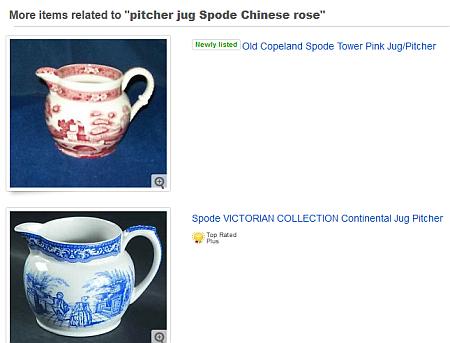 On the US eBay, nothing on this list of alternatives is even close to the desired object. 
On the UK eBay, our large 2 pint jug is 6th on the list.

Well done UK eBay (but surely it should have been higher than 6th as most of the keywords matched). 
The UK seller states wordwide postage, so no reason not to be listed on US eBay. 
Bad luck if you live in the US and and want this jug.

Many people would give up at this point and assume the jug/pitcher is not available on eBay.
WRONG!
How do you find this listing if you are in the US?
Either change your keyword search and do several versions.
"Large pitcher jug Spode Chinese rose"
Still nothing.
Here is the  secret

Do your best attempt at a relevant keyword search.  Then, check with eBay what it suggests as good alternative searches.
Where do do you find this vital information?
Scroll down to the hidden depths of the page (at the very bottom below the ads) and you will find this list of alternative search phrases.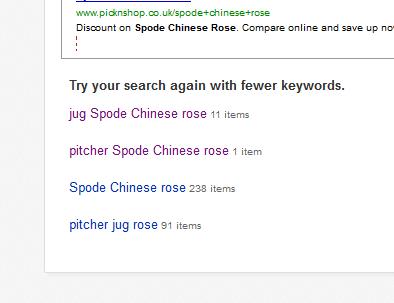 above image is s screenshot of the actual page

The obvious link to click is the top one - 11 items listed under 'Jug'.

The jug we want is NOT there.
There are some smaller version of the jug, but not the large pitcher.
So we click on the second link with only one result.
Is this the illusive large pitcher?
NO!

It's another small one.
Then, eBay give again another list of alternatives.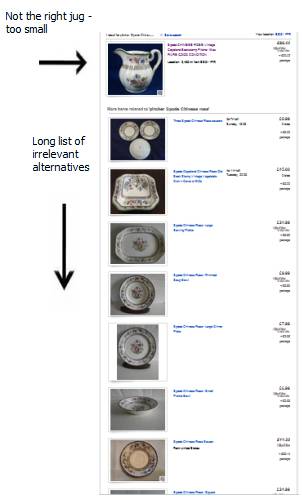 HOWEVER!
If you go down this irrelevant list far enough (32nd on the list) - you get this...

THE JUG WE WERE LOOKING FOR!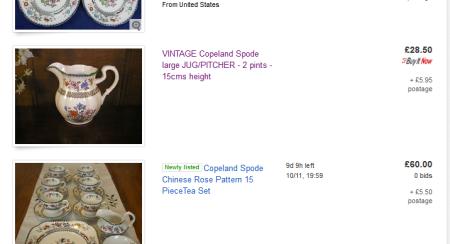 This is the large 2 pint jug we wanted along.  It is only £28.50.
The seller has used the words we put into our original search in his headline description.
We said:-  "pitcher jug Spode Chinese rose"
The seller said:-  "jug pitcher Spode"
The seller omitted the pattern name, and added the words 'vintage' and 'Copeland'.
Our question to eBay is - 'why does eBay search not include this listing above all the other irrelevant items that are not jugs or pitchers?'
Had we used this phrase on the US eBay:-
"Large pitcher jug Spode"
.... not specifying the pattern (as the seller had not specified the pattern in the title), then we would have found the jug quicker.
There were 6 local US listings for this search term.  Under that there were 3 international listings, where our illusive jug was showing.
So, be both determined and creative in your searching.  OR use the  browse facility (does anyone ever do that?)

You Can Save Searches

Once you have worked out what search terms are useful for finding your item, you can get eBay to email you every time a new listing is put on.

Just click the "save this search" button and ebay help will let you know whenever goods come online.


Auto-bids are best

IMPORTANT FOOTNOTE! Please don't spoil all this clever ebay help searching by missing your item for a bid.
In other words, please decide your maximum bid and put that bid on the automatic bidding system. Auto ebay help will automatically outbid your rival by a small figure each time until your max is reached.
All you have to do is go to the "Your maximum bid: Place Bid" link underneath the starting price and then input the most you would be prepared to pay into the box shown below.
Ebay help will NOT immediately put that full amount into the auction, it will put only just enough in to beat your rival's last bid! All done automatically for you. Neat!

Summary
The moral of this story is, if eBay's search tells you there is zero results, do not believe them.
Assume the eBay search programmers don't know what they are doing.
Be very creative with your keyword phrases, try lots of alternatives, look at eBay's alternative search suggestions (usually at the very bottom of the page below the ads).
Then, once you have worked out the right words to use, save the search.
You will be emailed with new listings

When bidding, use the auto-bid feature.  Don't lose your item for a bid.

Return from China Replacement Ebay Help to China Replacement main page OR Figurines Sculpture Homepage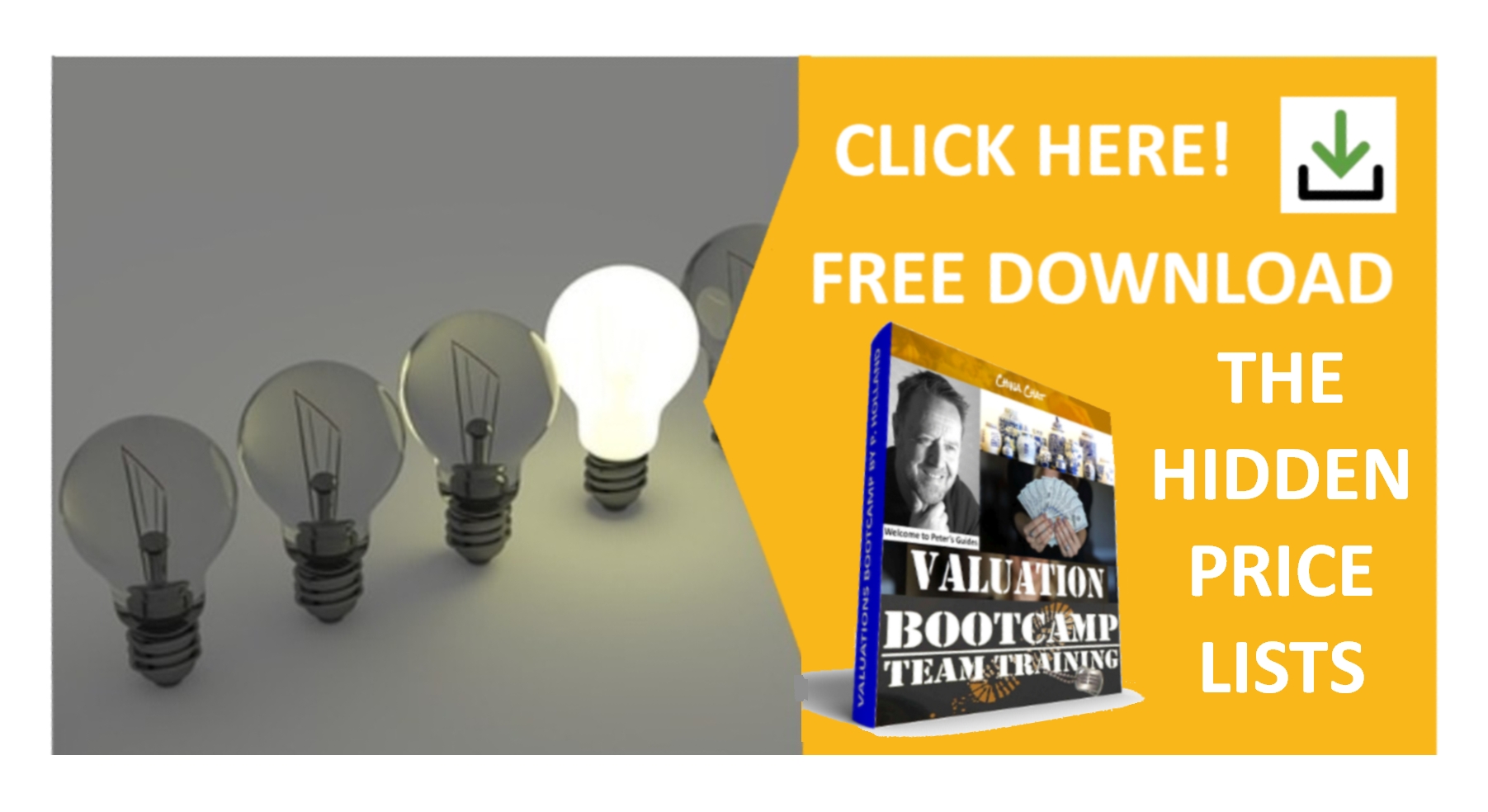 "Your guides are a blessing to us" Cindy Johnson