ADAMS "CAPSCO 1959" conflicting mark / story
by Crystal
(California)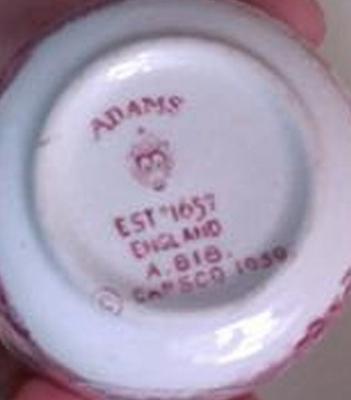 ADAMS
ADAMS "CAPSCO 1959" conflicting mark / story:- Hi, I have a tea cup and saucer set which I bought from a lady who's sons, who served in Germany during the war, sent to her as a gift. However the backstamp has confused me.


The Underside reads ADAMS and beneath that is a crown you would typically see on an ADAMS 1914-1940 piece.
Beneath the crown it reads EST 1657, ENGLAND, A.818, (C) CAPSCO 1959.
On the underside of the saucer it reads OLD ENGLISH STAFFORDSHIRE WARE which arches above a JONROTH mark (Circular mark with a crown on top, reads JONROTH ENGLAND with what looks like a JHR&C (?) in the centre).
Beneath the JONROTH mark, it reads MADE BY ADAMS ENGLAND EST 1657 A. 818. (C) CAPSCO.1959.
Can anyone assist in dating this piece?
I want to assume it is from 1959? However, the story is the sons bought the set during WWII.
If it helps the patterns and stamps are red. The pattern on the tea cup is of Alexandria Masonic National Memorial and the Carlyle House.
The saucer has Gadsby's tavern, CD Presbyterian meeting house, Vernon VA, Christ Church and Woodlawn Plantation on it.
Crystal
==============================