aynsley teal blue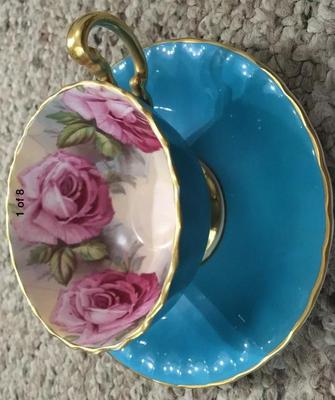 aynsley hand painted cup and saucer value
Hi Peter


I added this to ebay and *bam* I got 50 watchers and 45 bids. the last bid ended at 330.00.
I want to make sure it is valued correctly.
Tom
----------------------------
Reply by Peter (admin)
Hi Tom
I have had a spate of these Aynsley hand painted tea cups in for evaluation recently (as well as a similar product line from Paragon) and there is a premium for these currently - particularly on the eBay platform.
Here is my report for your item:
---------------------------
John Aynsley & Sons Staffordshire Bone China Hand Painted Floral Cup & Saucer set, dated from 1934 to circa 1950s.
Value at auction: Without an artist's signature, the trending price can average around $50 - $100 USD currently for an individual cup and saucer pairing (hand painted enamel floral still life).  Date does not effect value as much as individual artist and pattern rarity/desirability. Some, with an artist signature (e.g. J A Bailey) or some even without a signature but with a very pleasing design and colourway can reach $200-$400 USD.
Background:  Dating can be applied as follows:  'Bone china' wording introduced from 1934.  Established year (1775) introduced in 1939. Earlier version of the standard crown mark c.1920's had no 'bone china', first quarter of the 20th century had '& Sons' wording. 'England' wording introduced 1891.  The Aynsley brand is a prestigious name and was established by John Aynsley in 1775.  It is one of the few companies to have survived the closures of 2008/9 in Stoke.  This is due to a previous management buyout.  It began in a small pottery in Lane End, later known as Longton, in Staffordshire. Aynsley was initially known as an enameller which indicates that he was a decorator rather than a manufacturer to begin with. It is not known exactly when Aynsley began their own manufacture but records show a maker of earthenware called Aynsley and Company existed in Flint Street, Lane End in 1810. They were the first to specialize in Lustre ware.  In 1841 Aynsley died, leaving  his son John Aynsley 2nd to continue the business.  They became known for fine bone china, luxurious decoration and hand gilding in gold and platinum.
----------------------------
Best regards
Peter (admin)