Pottery Mark Query - Johnson Bros Wash Basin
by Lori
(Minnesota, USA)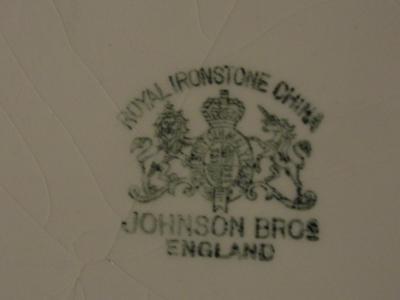 My Wash Basin - Johnson Bros Mark
I have a Johnson Brothers wash basin ca. 1893-1900. I have already identified the bowl itself, but I just came across this website "CountryChicInspirations", where I found the exact same bowl that I have but it has a different mark. I identified my mark from "thepotteries" website to check the marks -their mark was not listed. They are asking $300 for their bowl (and no way to contact them either)...I couldn't find a replica of their mark anywhere so far. This mark says "Stone Ware" which is another thing that I have not found on Johnson Brothers potteries. I don't want to accuse but it just looks a bit odd - especially since I have the same bowl. So anyone have any ideas about this? Did Johnson Brothers make the same bowl but at a different time? Create a different mark than what I've seen?


Lori
Please contribute to this thread by writing in the comments section below – just scroll down...
HOW I MADE MONEY FROM BITS & BOBS OF OLD CHINA

.....more
The forum Help Elf says:-
Nothing complicated here apart from your mark is before 1913 and the other mark is after 1913 (ref. Godden's Guide).
With regard to this wash basin, it is only part of the original set which would have had a pitcher and soap bowl too.
What you get for an item depends on
a lot of factors. One is is the item is mass produced. Johnson Bros are mass producers. Their quality is excellent, but they are not aimed at the top end.
Second is whether or not you are selling at auction - one of the main outlets for an individual seller, or whether you are a retailer with a shop.
A retailer in a shop will always charge at least twice, if not three times the price you are likely to get for the same item at auction.
This is not a rip-off, it is merely the retailer mark-up to pay for the huge expense of running a store (online or off-line) and buying and keeping stock. No one is making a fortune, even at three times mark-up, trust me.
So a full Johnson Bros toilet set (with all the parts) at auction is unlikely to fetch more than $100, even if it is a genuine antique (like your wash basin).
However, a bowl like your one sold online by a retailer can easily have a retail price tag of $300 - even if it is newer than yours. Such is life. If you don't like this idea, try to start an online store like CountryChicInspirations and see how much this cost you as an exercise! LOL
For general free advice on how to research your collection, Peter wrote this page:
value of antiques
.
H.E.