Dating Minton mark - B4 1/2
by Melissa
(Ohio, USA)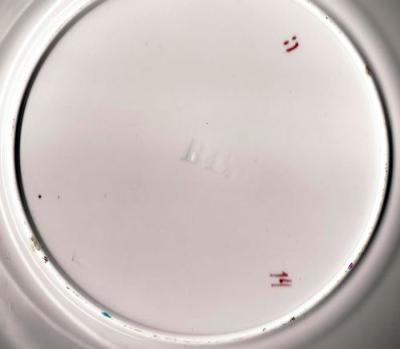 Dating Minton mark - B4 1/2 Query: Minton plate mark
Dating Minton mark - B4 1/2 Query:- I have a set of 4 plates that I recently bought online. The seller did not know the maker or date, but I have identified them as Minton, circa 1845, through www.replacements.com (http://www.replacements.com/webquote/M__3082.htm)


They are a variation of the cuckoo pattern, with a handpainted turquoise rim. The pattern appears to be stamped, with the colors being hand-enameled.
The backs are marked with an impressed B4 1/2 (the 1/2 is impressed as a proper 1 over 2 fraction), and there is a hand painted '14' in a reddish-brown color on all plates. One plate has an additional hand painted mark of two small vertical dashes with a longer vertical line to the right; this mark can also be seen as two horizontal dashes with a longer horizontal line beneath(and looks somewhat like an emoticon smiley face).
I am attaching a scan of one of my plates, the back mark, and a photo from replacements.com. Their photo is of a cup. Except for the inner rim being a different color and having a scalloped edge, the pattern is the same as my plates (notice that the bird is on the outside of the cup). They also have a listing for Minton 3084:
http://www.replacements.com/webquote/M__3084.htm
This shows the same bird/bush pattern as my plate but their photo is so bad I don't want to send it along!
Can you confirm the maker and date? Hopefully the scans are good enough, if not I will try to get photos instead.
Thanks
Melissa
===================================
Reply from Peter (admin) below - just scroll down
HOW I MADE MONEY FROM BITS & BOBS OF OLD CHINA

.....more
Reply by Peter (admin)
To Dating Minton mark - B4 1/2 Query
Hi Melissa
Sorry to take so long to reply, but I have lots of sculpting deadlines at the moment, and have been away too.
I am trying to
catch up as fast as I can!
Are you THE Melissa, my friend who answers lots of queries for us?? If yes, thanks for your constant help - much appreciated!
Right, onto the Minton. Brilliant post, thanks.
First I need to say Minton marks are a specialist area simply because Minton were so large and important company. My general references do not go into that much detail. So confirming the maker is probably outside the remit of these help forums.
That said, if it is Minton, the impressed 'B' on your wares would give the year as 1886. Not sure what the 4 & 1/2 means.
The letter 'B' is unusual because the year codes are not normally letters but strange graphic devices called cyphers. A circle inside a triangle for 1876, a cross inside a rectangle for 1884, a dot inside a square for 1869, Staffordshire knot for 1888 ..... and so on.
This info is taken from what Goddens says about Minton marks:
From 1842 they went to an impressed 'cypher system' very specific and easy to date.
There may be exceptions I suppose, but generally, this is what you see:
There is normally a set of three marks:
YEAR -- a different 'cyper' or graphic mark for every year for 100 years.
The 'B' shown looks like the mark for 1886.
MONTH -- This is normally a letter of the alphabet - J for January, F for February etc etc (I can't see this on yours)
POTTERS MARK -- I don't have any info on the potters mark, but I guess they are the squiggles.
What else have you found out?
Best regards,
Peter (admin)
p.s. The following page is a 'must see' if you are researching fine china - for value and identification:-
Researching the identity and value of antique and vintage fine china
.
Please post comments below which you think might be helpful……