lovely studio art pottery bowl with illegible handwritten signature
by L P
(UK)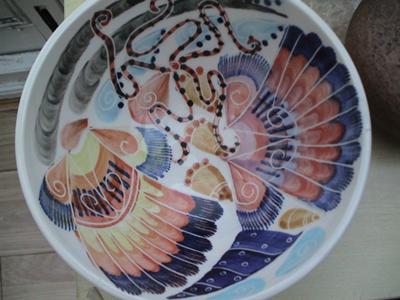 lovely studio art pottery bowl with illegible handwritten signature
lovely studio art pottery bowl with illegible handwritten signature... found this beautiful bowl in mum's cupboard recently and wondering if its art deco, who its by, my mum suggested Gaudy Welsh, if so I wonder what the pattern is called, looks like seashells & octopus and is lovely and brightly coloured. and also I can't decipher the name of the artist that is signed Chris...? would love to know,


thanks
LP
=====================================
Please contribute to this thread by writing in the comments section below – just scroll down...
HOW I MADE MONEY FROM BITS & BOBS OF OLD CHINA

.....more
Hi
Many thanks for submitting, and hope you are finding the site useful.
The nearest I can get to deciphering this scribble is Gurli Pottery Chris Luttel. So this is what I Googled and with some special Google ninja-fu managed to locate Chris Luther Pottery located in Seagrove, NC - www.chrislutherpottery.com - Not sure if this is the one or not. Chris Luther seems to have some really nice work on show and is a real skilled artisan. Good luck to him, and hope he thrives and sells lots of his art studio pots.
Knowledgeable contributors please try to help more with this one (check out the comments section below for replies). Do you have any Chris Luther work and tell us the story behind it?
Valuations are dealt with here:
My vintage and antique china values page
Best regards
Peter (Admin)
p.s. The following page is a 'must see' if you are self-researching fine china - for value and identification:-
Researching the identity and value of antique and vintage fine china
.
Please post comments below which you think might be helpful……