Ceramic marks C & Co. Ltd London on pair of Posy Dogs
by tracy
(dorset, UK)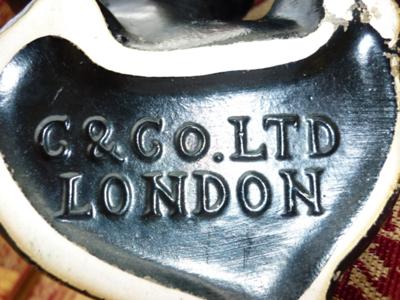 Hi Forum members - I have recently acquired a set of two small vases and would be interested to know more about them if anyone can help me. They were lurking in a box of bric-a-brac that I bought in order to purchase a small Sylvac matchstriker rabbit which was among the contents.


They are in the form of two bulldogs and they are carrying irregularly shaped hexagonal posy vases on their backs. They may of course not be posy vases at all but that is my best guess at what they are for.
Anyway they are black and feel pretty light as though they may be made actually be made of cellulose or similar - a bit like some of the old Sylvac models.
The eye sockets are rather "empty looking" if you understand me - it looks as though they may have had glass eyes at some point.
The makers mark is on the base. It says C & Co.Ltd London.
I have tried to find this maker on the internet but am unable to track it down.
I believe the dogs to be pretty old - maybe 1930's or so.
I would be really grateful for any help the forum can give me on identifying the little "beauties".
Tracy
Please contribute to this thread by writing in the comments section below – just scroll down...
HOW I MADE MONEY FROM BITS & BOBS OF OLD CHINA

.....more
Peter (admin) says:-
This mark C & Co LONDON Ltd, is a very obscure one , with very little on the internet and not mentioned in Goddens at all.
I saw one listing on ebay showing this name and the seller was calling it C & Co as in Coloclough & Co, the original Colclough incarnation (they changes their name to H J Colclough in 1937). This is wrong, I feel because Colclough were always a Staffordshire outfit (he was Lord Mayor of Stoke) and never anything to do with London, as far as I know.
Anyone know, please post...
For general free advice on how to research your collection, I wrote these pages:
My vintage and antique china values page
value of antiques
.
Best regards
Peter (admin)