LORD NELSON POTTERY - DATE OF POTTERY MARK
by Jerry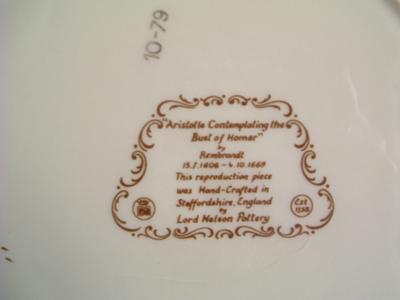 LORD NELSON POTTERY - DATE OF POTTERY MARK:- I FOUND THIS PLATE CLEARING MY MOTHERS LOFT COULD YOU TELL ME ANYTHING ABOUT IT.


Jerry
=====================
Reply by Peter (admin)
To:- Lord Nelson Pottery - date of mark query.
Hi there
Thanks for your interesting submission. Nice find in the loft! I appreciate the time and trouble you took to contact the site and share this handsome discovery.
Lord Nelson Ware started life in Hanley, Staffordshire in 1880 (that is according to Goddens - some other accounts say 1758) as the rather wonderfully named Elijah Cotton (Ltd).
If I were them I would have stuck to that name because it has a very distinctive ring to it indeed.
However, they invented the brand "Nelson Ware" in about 1913 and then the term 'Lord Nelson Ware' seemed to appear around the 1950's (could be earlier though).
This company went on into quite modern times, so the plate could just as well be relatively modern (2nd half of 20th Century?), in fact.
Best regards,
Peter (admin)
=======================================
Lord Nelson Pottery
by: Roger Williams
I have 3 Lord Nelson Pottery tankards commissioned by my squadron to celebrate the Fleet Review at Spithead - June 28 1977. They are marked with 809 squadron crests and were issued whilst we were embarked on HMS Ark Royal.
======================================