Would like to know the origin of the mark N. W. P. Co
by Tom
(Oak Grove, Ky)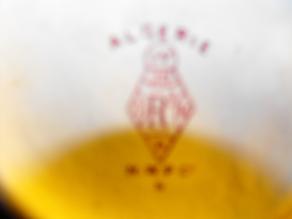 Would like to know the origin of the mark N. W. P. Co
Would like to know the origin of the mark N. W. P. Co:- I have found your website to be EXTRAORDINARILY helpful! I have only been looking for about an hour and have learned a lot. This is the ONLY site that has been of any help to me. I have never attempted to date anything before. But, I digress, let me get on with things.


My wife has a decanter that was passed down to her.
I don't know many of the details, but through reading through your articles, I believe it was made in October 1883. Above the diamond/kite is the word "ALGERIE", and below the diamond/kite is "N. W. P. Co" over the letter "B". On the right side of the mark is a "K" indicating 1883, if I'm not mistaken. At the 6:00 position is the letter "B". Looking at the stamp upright,there is an indention in the ceramic of what looks to be a "6" above (perhaps) "06".
My wife treasures this antique, because it was left to her by, I believe, her great aunt. My wife has had this for a very long time, and knows next to nothing about it.
Being that her birthday just passed, I would like to be ably to find something definitive about this for her.
I'm not so concerned as to the value (although, I must admit that I am a bit curious), as I am the origins.To my knowledge it has never been used, and sitting here collecting dust. There are fine cracks all over it from mere age, and one large crack near the handle.
The design on it is a small tree branch with a few leaves and perhaps some sort of fruit, and what looks to be two plates, or disks. One of which has a checkerboard design with alternating patterns of the rising sun and five dots. The other is of two flowers.
The artwork is done in a deep reddish color with a slight purplish hue. I believe that what they mauve, but I don't know.
Anyway, if someone could help me figure out the origins of this pitcher/ewer/decanter/whatever, I'd greatly appreciate
it.
And keep up the great work on this website!
Tom
=======================================
Reply by Peter (admin)
Hi Tom
Great that you are a dutiful husband, researching your wife's treasured items.
I can tell you all about this one.
It is made by a company called New Wharf Pottery Co of New Street Burslem, Stoke-on-Trent, England. They later became Wood & Son. The B stands for Burslem, of course.
You correctly identified the pattern name as "ALGERIE". The registration kite mark shows the exact date you mentioned, but also Goddens confirms this by stating the this mark being used by New Wharf Potteries from 1878 - 1894.
So we're all joined up.
The only issue is value - As you may know, picking over the value of items is not really the remit of this section (these are the friendly, helpful, identification forum discussions) - were we to allow too much discussion over values, arguments would break out, people would disagree, people may even feel insulted about their treasured items - and after all, for my money, sentimental value is the highest worth of all, by far!
That said, to discuss this generally for a second with regards to New Wharf, the higher end of the market with added value with this antique maker seems to be in their beautiful flow-blue wares especially their large platters. Everyone loves a bit of antique Victorian flow blue Staffordshire.
I have seen flow-blue New Wharf pitchers go onto eBay with a buy-it-now-price of around $30-40 USD (clearly the retail price the eBayer was assuming the jug was worth) and not get a single bid. I have seen similar sell for around $15.
Just because the ebay auction format doesn't achieve an assumed retail price, it doesn't necessarily mean that the retail price was wrong, just that eBay tends more often than not to achieve online auction prices, not retail prices.
So what does this make the value of your unusual (rarer) but perhaps not so collectible (as flow-blue) NWP Co item? Your guess is as good as mine. That's exactly why we all need our antiques roadshow experts to tell us.
Best regards
Peter (admin)