Butterfly vase retailed by Mortlock
by Terence Pullen
(South Wales. UK)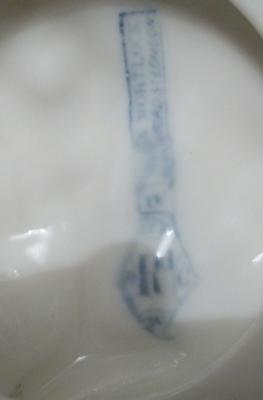 I would be grateful for any advise regarding this little spill vase in the shape of a Butterfly. It stands 5" high, 4" across and 3.5" across the base. The Mortlock stamp is above a lozenge with a central 'Rd' with 'C' at 3 o'clock, 'W' at 6 o'clock but the other 2 are too blurred to read. This was given to me by an elderly Lady in 1970. She had been given it as a present many years before but I wasn't able to clarify a date. It is in the Belleek style with the iron lustre glaze.


Thanks in advance.
Terence
===================================
The Forum Help Elf says:-
Many thanks for posting such a fantastic ceramic art object - we Elves love such objects. I myself was born in an elven wood in South Glamorgan, so I was interested in your location.
Lots of exciting information to impart about this butterfly ceramic sculpture. First about the diamond/kite mark - it is not a makers mark but the British registration mark. The 'Rd' stands for 'registered'.
Your mark shows your item is from March 1870. The unreadable blurred marks are mere unimportant details. It is the 'C' which is all important - as well as the fact that there is a letter, not a number at 6 o'clock. So you were lucky to have the important letters showing up clearly.
This date ties neatly in with the dates of operation of J. Mortlock or Mortlocks Ltd of Oxford Street - a retailer of great renown.
Est. 1746 and traded until around 1930. During their height in the 19th century, they worked in conjunction with several ceramic fine china factories who produced Mortlock 'own-label' wares under various pottery mark backstamps - all showing the name Mortlock in some way. Mortlock must have had considerable buying power to have the own-label facility proffered to them.
This lovely item is old, it is a beautiful art object - may I highly recommend you put this past Peter's Antique Roadshow experts asap in order to get a handle on it's value. To do so go here:-
Peter's "Bring in the Roadshow Experts" antique china and collectibles evaluation page