Is this a "real" Grimwades Winton backstamp?
by Larry Seale
(Platteville CO)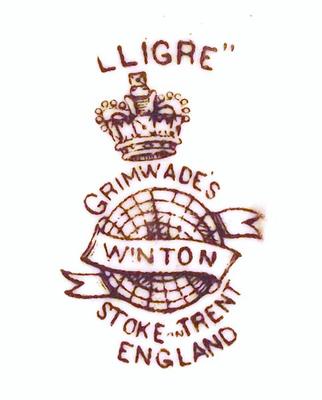 The piece is a chamber pot purportedly in the "FILLIGRE" pattern. I say that with caution since it's a guess on our part that "FI is what's missing from LLIGRE" & it's supposed to be the pattern name.


I can't find another example of the backstamp. The closest I can come is from the early 20th century with WINTON in the banner but a spaced GB rather than GRIMWADE'S. I also can't find another example of GRIMWADE'S with the apostrophe in the name.
My final concern is the condition - it's almost too good with no sign of crazing what-so-ever. I'm certainly not an expert but it seems to me if it were an actual antique, there should be some signs that it had been around for a long time.
The thought crosses my mind that it could be a much more modern firing and someone was just trading on the GRIMWADES name.
Pic 3 shows the bottom. There is a raised rectangle that has a faint impressed number in it. The arrow points out a mark that seems to be intentional. Pic 4 shows what I would think is a pretty major firing flaw on the inside wall of the pot.
Any thoughts on the subject or hints as to where I could get more information?
Thanks
-larry-
============================
Reply by Peter (admin)
Hi Larry
I am not an expert, but by a process of elimination I feel the mark is genuine.
I looked
at the marks shown for Winton/Grimwades in Goddens encyclopedia and saw marks not identical but similar in graphic style to your mark - dating from the early part of the 20th century after 1906. Goddens doesn't show all variations of the standard marks simply because some of the variations are uncommon and may not have been available to the writer at the time of publication.
Any modern faker wanting to pull the wool over our eyes would choose a common mark to copy readily shown in books like Goddens. They would try to copy a mark of this type, but they would never be able to reproduce the Victorian / Edwardian style of the print decal, in my view.
What there has been is a minor industry around the revival of tastes for chintz in the 1990's in some markets. The people owning the Grimwades name re-issued several chintz patterns - marking them with the Royal Winton backstamp (the word 'Royal' always seeming to be an aid to selling). Forgers have been known to alter these modern version of the standard Royal Winton mark in order for them to look like the old marks.
However, your mark does not appear to be in this category. So either the faker is very good at re-creating old looking Edwardian marks, or the pot is genuinely an antique from Grimwades.
If we have someone with knowledge in this area, please post.
Best of luck with your research.
Peter (admin)