Pottery Mark Query- W LOWE L
by Ozlem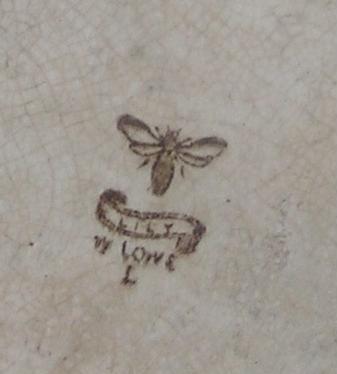 W LOWE L (with LILY pattern) bee mark on old charger
Bee mark on old charger Pottery Mark Query- W LOWE L (with LILY pattern)


Mr. Holland, thanks for replying. Here is the photo of my earthenware plate's mark which is closer than before:)Hope you have any idea about the the maker..
Regards,
Ozlem.
=============================================
Reply by Peter (admin)
to: Pottery Mark Query- W LOWE L
Dear Ozlem
Thanks for your interesting query, I really appreciate the time and trouble you took to upload a close-up photo.
Also welcome to the 'community' and watch out for our updates and news - there are always some fascinating snippets to read.
I would love to have a photo of the wares too - please upload soonest.....
Yours is particularly interesting query because W Lowe is an interesting maker whose rarity is emphasized by the fact they only produced until 1930.
William Lowe is an English maker operating out of the Sydney Works, Longton, Stoke-on-Trent - this is what the 'L' stands for under the name.
They began 1874 and typically the early wares have the initials W.L.L. in an inverted triangle (1874 - 1912). The Court China mark was begun around 1912.
They also have the same crown mark with the words "Royal Sydney Ware" which started in 1915. I don't know what warrant the "Royal" refers to, but the Sydney refers to the works in Longton where they were based in 1915.
Modern Far East maker Wong Lee has faked marks to try to pass their wares off as William Lowe. They even go to the extent of reproducing the crazing on the base as in your picture.
Is your item genuinely W Lowe?
I have never seen recorded the bee pottery mark in association with W Lowe. I have looked in Kovels, Goddens and Millers guides and also checked with potteries.org
If it is W Lowe you have a rare mark - probably hard to get hold of for collectors and therefore perhaps of some value to certain people.
Peter (admin)
p.s. The following page is a 'must see' if you are researching fine china - for value and identification:-
Researching the identity and value of antique and vintage fine china
.
Please post comments below which you think might be helpful……
======================================
General Comments:-
------------------------------------
W Lowe Bee and Chain
by: Annette
I have a round W Lowe plate with a bee, then the word "chain" in a ribbon, the W Lowe below it and and a L below that.
I would to know the age of the item as it belonged to my grandmother who died in 1931 or possible her mother.
If you could send me an email address, I'll send you a photograph of the mark on the back as well as the front of the page.
===============================
Reply by Peter (admin)
Hi Annette
Thanks for your contribution, please send the photos to....
peter@theclayartist.com
------------------------------------
I live in Turkey and have one ceramic plate (24 cm),egyptian black flowers on it and exactly the same makers initials at the back..
------------------------------------
Royal Sydney Ware W Lowe Cookie Jar
by: Helen
Hi Glenda Holland,
re your W.Lowe L Jar: My earthenware item sounds exactly the same as yours. I would be happy for any information on how old the item is and its value.
Regards Helen
------------------------------------
Royal Sydney Ware
by: Helen
I have earthenware: Royal Sydney ware with crown under name then W LOWE under crown, under that L. The item I believe is a cookie container, black with coloured flowers and silver lid & handle. Would love to know its value. I know it is at least 60 years old.
------------------------------------
Large oval platter
by: Yolanda L
It's about 15' long with a width of 10".
It is off white, with light blue trim.
Would you have and pictures that you can display?
--------------------------------------------------
W.Lowe.L Jar
by: Glenda Holland
I have a Jar with a metal lid and handle. It is black with coloured blossoms and butterflies and has a gold rim around the bottom, it stands 5 1/2 inches tall
but taller if you put the handle up
I would very much appreciate it if you could let me know what you think it would be worth. It has a crown stamp on the bottom with W. Lowe. L on it. and above that Royal Sydney Ware. Thank you. I look forward to your your comments.
------------------------------------
by: Peter (admin)
Many thanks for your contribution to this thread, you are most welcome.
For valuations of this nature, please go to this page:
vintage and antique china values page
and follow instructions for my expert valuation referral service at the foot of the page.
Regards
Peter (admin)
------------------------------------
Royal Sydney Ware
by: Rose
I have two vases and a ginger jar. They are blackwith blossoms and butterflies on.nderneath each one is says Royal Sydney Ware Underneath that is a Crown underneath that it says W.L.Lowe
L
There is a number which is 1/4oo7
I know they are over 100 years old I would like a valuation on these if possible I could send photos.
Look for ward to your reply Regards Mrs R.D. Moore
Thanks..
------------------------------------
by: Ozlem
Mr. Holland,
many thanks for informing about the mark.It was so useful. Well..What about the "Lily pattern"? Do you have any "date range" for this pattern.It was used only by W Lowe or generally used among different English makers as well? May you inform me please?
Thanks and Regards.
Ozlem
P.S: I will send photo of the ware as soon as possible.