Pottery Mark Query - Old Chamber Pot, "G" Inside Star
by Shane
(Fresno, CA. USA)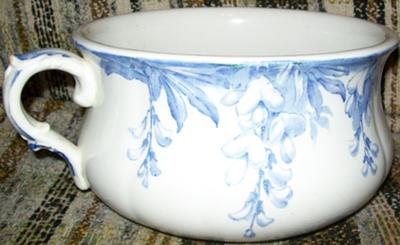 Pottery Mark Query - Old Chamber Pot,
Pottery Mark Query - Old Chamber Pot, "G" Inside Star:- Hello... I found a really pretty chamber pot that has managed to stump nearly everyone to whom I've shown it. Part of the issue is that the mark itself is blurry. It says "Wistaria" at in quotations at the top (the first letter is blurry... I'm assuming it's a W).


There is a G inside of a star in the center. Stratfordshire England is semi-readable along the bottom edge, but at the top are two blurry words. The first word starts with the letters "GR" and it is hard to read the rest... I think there is a "V" somewhere near the middle of the word. The second word is "DE"
Below it is the number Ro No 424760. Any help as to the mark/age/rarity of this piece would be very appreciated.
Thank you!!
Shane
Please contribute to this thread by writing in the comments section below – just scroll down...
HOW I MADE MONEY FROM BITS & BOBS OF OLD CHINA

.....more
Pottery Mark Query - Old Chamber Pot, "G" Inside Star
Hi Shane
You have chamber pot made by one of the greatest bone china makers ever to grace the planet. Grimwades is the name, or more properly, Grimwade Brothers - a company started in 1855 by two very clever and creative brothers and Sidney and Leonard. The very word chintz comes from them - their company developed the process to make chintz patterns possible (rotary kiln, lithography etc etc). 'Marguerite' was the first Chintz pattern, launched in 1928. They are one of the few companies to rightly use the title 'Royal' as King George V paid a personal visit in 1913 and chose a tea set for himself. They changed their name to Royal Winton in 1929.
The word 'Wistaria' is the pattern/design named after the lovely flowering tree of the same name.
Peter (admin)
p.s. The following page is a 'must see' if you are researching fine china - for value and identification:-
Researching the identity and value of antique and vintage fine china
.
Please post comments below which you think might be helpful……